The San Juan (Midnight) Express
Time to climb again. There was a group of men headed to the San Juans for the better part of a week so we took the opportunity to join them. For those of you not familiar with the San Juans, they are in the Southwest part of the state. They are very remote and very beautiful. It is almost like a different part of the state. But the biggest problem is getting there. They are at least 6 hours away. The plan was for 4 of us (Pete, Jerry, Joel (Jerry's nephew), and I) to leave Denver on Thursday morning, drive to Ouray, climb Sneffels, then meet with Paul and John near the Kilpacker Trailhead. We were to camp there Thursday night, then backpack into the Navajo basin on Friday and climb Mt. Wilson and do the traverse to El Diente on Saturday. Then stay another night and head home on Sunday. As you will see, those plans would change a few times.

As I had just started a new job and Jerry had family commitments, we were forced to begin the day at 1:30 AM. That made for a long day. I picked up Jerry and Joel at Jerry's house at 1:30. Then a quick drive across town and we met Pete at a Park 'N Ride. We were on our way South and West by 2:15. The drive to Ouray was uneventful. We saw a dozen deer or so and only had to "chase" one off the road. It was a good size buck on the west side of Monarch pass that would have been a prize if we were only a couple months later. Only 2 stops (coffee in Gunnison and food in Montrose) and we were at the road up to Sneffels. The road to Sneffels demands some description. It is an old mining road that is best described as a "shelf" road. The road hangs over a "gorge" that is (at times) a couple hundred feet deep. The road is also cut into the mountain in a "C" shape at one point. Almost like driving through a 3 sided tunnel. After a few miles the road turns very rough. As we began the drive up the rough part of the road, I miscalculated the clearance over one rock and "BONK" we were stopped cold. After a few minutes inspecting the truck we continued up the road and finally parked at about 11,800 feet.

The climb up Sneffels was surprising. The research I had done, the photos I had seen, and our approach drive and views all lead me to believe this was going to be a difficult climb. That was not the case. We left the truck and followed the remainder of the 4 wheel drive road to the actual trailhead. From there, we had less than 2 miles to go and we had only been hiking for 30 minutes. At this point, we were well above treeline. We followed the trail North and West and finally started to climb up a coulior on the West side of Sneffels. The couloir tops out at a col at just over 13,500 feet. From there we had the remainder of the climb in view. It is a steep gully formed by two rock walls on either side that continues for 600 feet. We hoofed it up the gully and soon arrived at the crux of the climb. The climb is a class 2 climb and has this one spot of class 4 exposed climbing. It is an off axis move that has a 100 foot wall on the left side so if you "miss" it won't be a good thing. Not that bad though. After the move and another 100 yards, we were on the summit. Mandatory summit shot: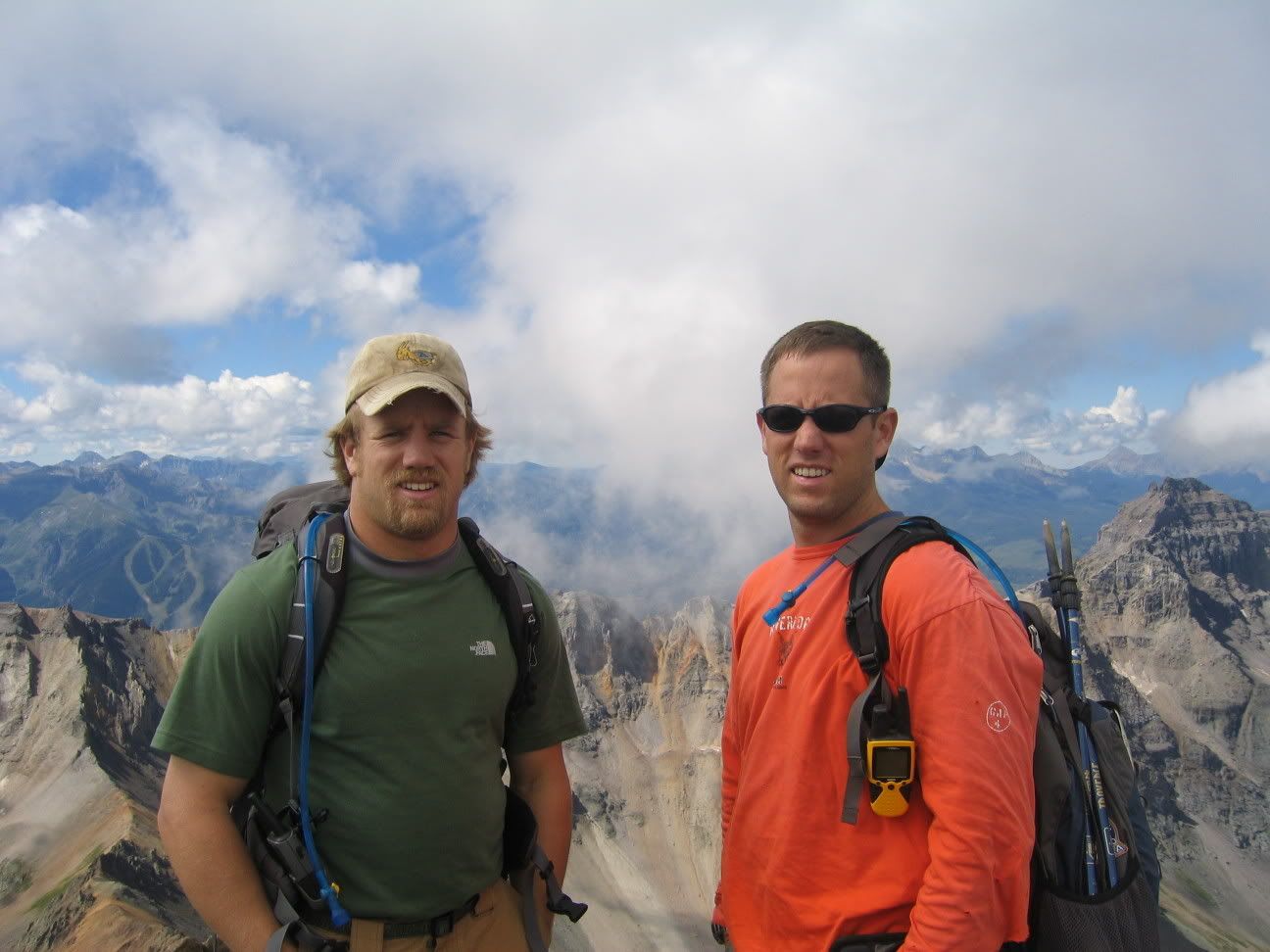 The climb back down was straight forward. We were able to motor through the scree and talus. Pete and I also shortcutted most of the 4 wheel drive road.

The stats:
- 2238 feet of elevation gain
- 16 feet per minute average ascent rate
- 26 feet per minute average decent rate
- 4 Hours roundtrip (2:05 up, 35 minutes on top, 1:20 down)
- 3.37 miles

Done with Sneffels (earlier than we thought) it was time to head towards Telluride. We took our time down the mining road and stopped at one point to look over the scenery. I got this photo looking west up the road:




As we had some extra time we all agreed on lunch. We looked through Ouray but found nothing. We took the 15 minute drive to Ridgeway and found a diner that had promise. We ate at the True Grit cafe. It turns out that part of the John Wayne classic "True Grit" was filmed both in that restaurant and in the park that sits directly across the street.

After lunch we continued our tour of the San Juans toward Telluride. West and South through Sawpit then South and West again over Lizard Head pass and finally 5 miles off of highway 145 we were at Kilpacker trailhead just after 4:00. We had planned on meeting Paul and John after 6:00 but we made great time. This was where plans started to change.

Pete really wanted to go for Wilson Peak. Wilson Peak is closed via Silver Pick Basin due to a private land / access fight with a private land owner. But Wilson Peak is open via Navajo Basin. As I was wiped out from the driving and climbing and the already 15 hour day, I wasn't ready for another 5 mile hike with a 40 pound pack. After some discussion the new plan was as follows. Pete would backpack into Navajo Lake Thursday night (I would sleep in the truck). He would then go for Wilson Peak on Friday. The remaining 5 would pack in Friday morning and meet Pete. Then on Saturday, the six of us would go for Mt. Wilson and then, those that wanted, would attempt the traverse to El Diente via the connecting ridge. The hike out on Sunday and drive home remained unchanged.

John and I drove Pete over to the Navajo Basin TH (2 miles) and sent him on his way. With Pete on his way we returned to camp. We hung out, cooked dinner, chatted etc. Typical of the San Juan's a Thunderstorm came through. It POURED for at least 30 minutes. While not the best of events, it did leave us with an impressive sunset and view: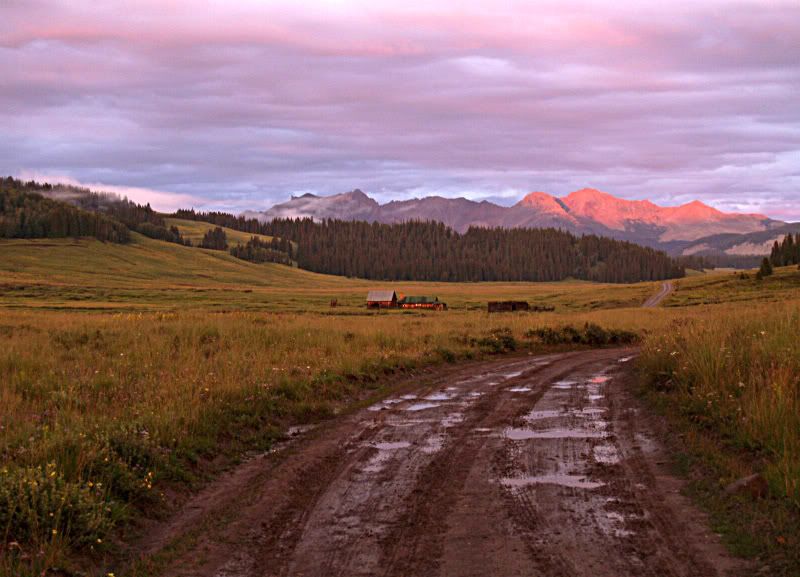 Probably a good time to point out that some of these photos were taken by Paul S. Paul is clearly a talented photographer and took hundreds of photos. He spends the time and has the equipment to do it right.

After a night in the truck (which wasn't bad at all), it was time to head into the hills again. We packed up camp, drove 2 miles, and started up the trailhead. We weren't in any rush as Pete had hiked in the night before and was to stake out a camp with room for 3 tents. The hike in wasn't bad at all. It was about 5 miles in length but did come with some elevation gain. The well marked trail wanders through meadows, pine forests, and along creeks and rivers. There were 2 waterfalls near the trail which also added to the scenery. Near the 2nd waterfall, the trail started to gain some elevation. The trail gained some serious elevation over a series of a half dozen switchbacks. Finally at the lake I called Pete for directions to the camp site. He had chosen a site at the far end of the lake for easier access to the peaks. Here is a photo looking across the lake (we camped in the trees on the far side):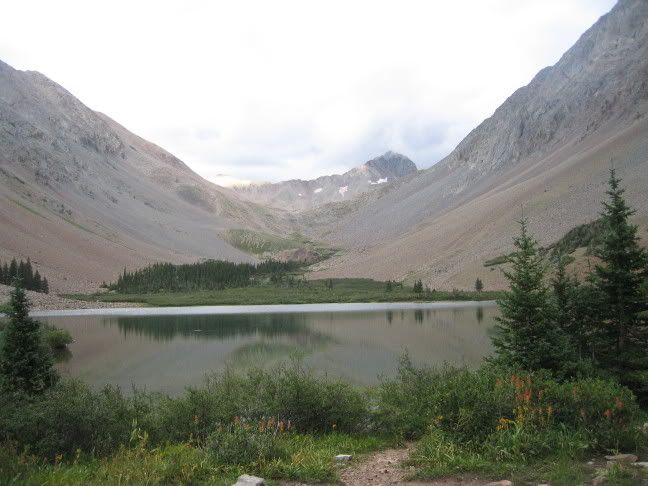 The stats on the hike up to the lake:
- 2100 feet of elevation gain
- 13 feet per minute average ascent rate
- 325 feet of elevation loss
- 32 feet per minute average decent rate
- 3 hours one way
- 4.9 miles one way

We met up with Pete and asked him about his climb. He had summitted Wilson Peak fairly easily but did mention that there were 2 VERY frustrating false summits. It was 5 hours roundtrip and a total of 6 miles (he didn't keep stats). Mandatory summit shot (Mt. Wilson in the background):




After catching up with Pete the others set up camp. We basically just hung out the rest of the evening. Cooked some dinner, talked, and prepared for the next day. The plan was to go for Mt Wilson and then based on conditions and how people felt, go for the traverse. We went to bed right at sunset. Unfortunately that wasn't the end to the night. Around 1:30 a storm moved in. Like the night before it POURED! Lighting, thunder, the whole bit. We stayed dry but it set the stage for the next morning.

We woke early to ominous conditions. The sky was dark with threatening clouds. We half thought about calling it a day but thanks mostly to Jerry, the decision was made to go for it. We started up the trail shortly after 6:00. The first couple miles are just following a scree and talus trail. Nothing exciting. The one element that kept it exciting was the weather. It felt like we were walking in the clouds. Due to the previous night's rain, the clouds were low. Add in the morning thermals and we were continually walking into and out of cloud banks. Here is a shot looking down the valley at a time when we thought it was going to clear up: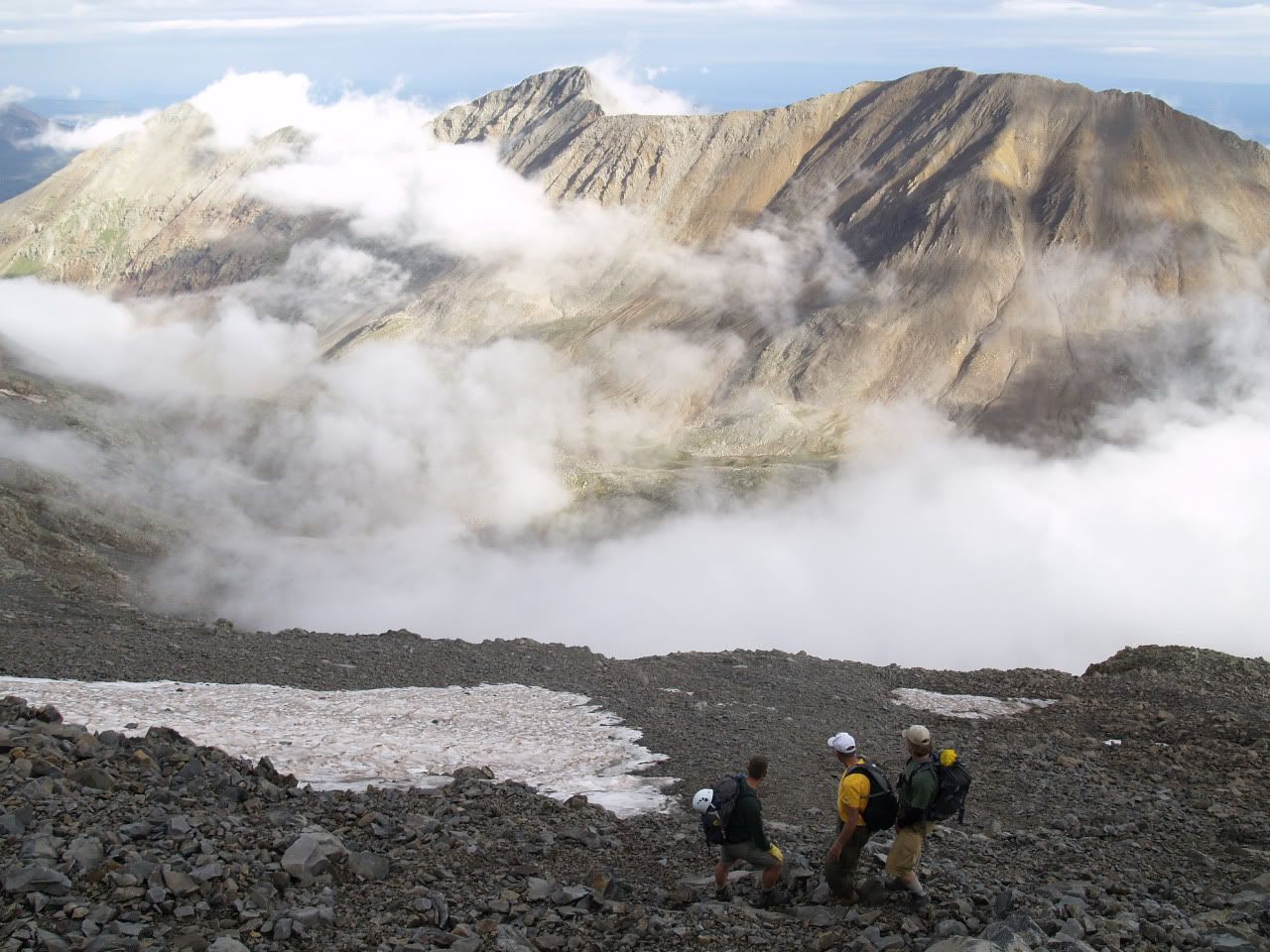 We reached the "base" of Mt. Wilson after about an hour and began our ascent. Mt. Wilson is one of the most difficult 14ers in all of Colorado. Partially due to the routefinding and partially due to the final 150 feet of the mountain (to be discussed later). As we began up we choose what we thought was the best route. I don't know that we will ever know what the best route up the mountain is. We followed the guide book as best we could but it always felt like we were guessing. There is no trail due to the steep talus slope that makes up the route. Here is a shot of us trying to figure out the best way up: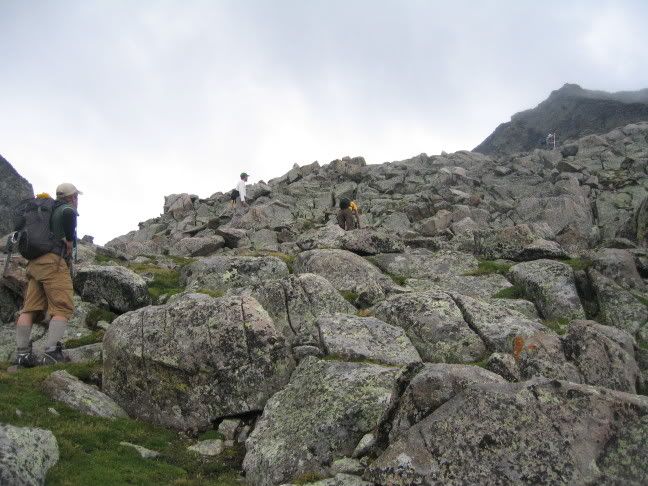 Add to that the clouds that wouldn't let us see more than 200 feet at a time and you have yourself a real routefinding problem. Here is a shot of John and Joel en route which should give you some idea of what we were dealing with: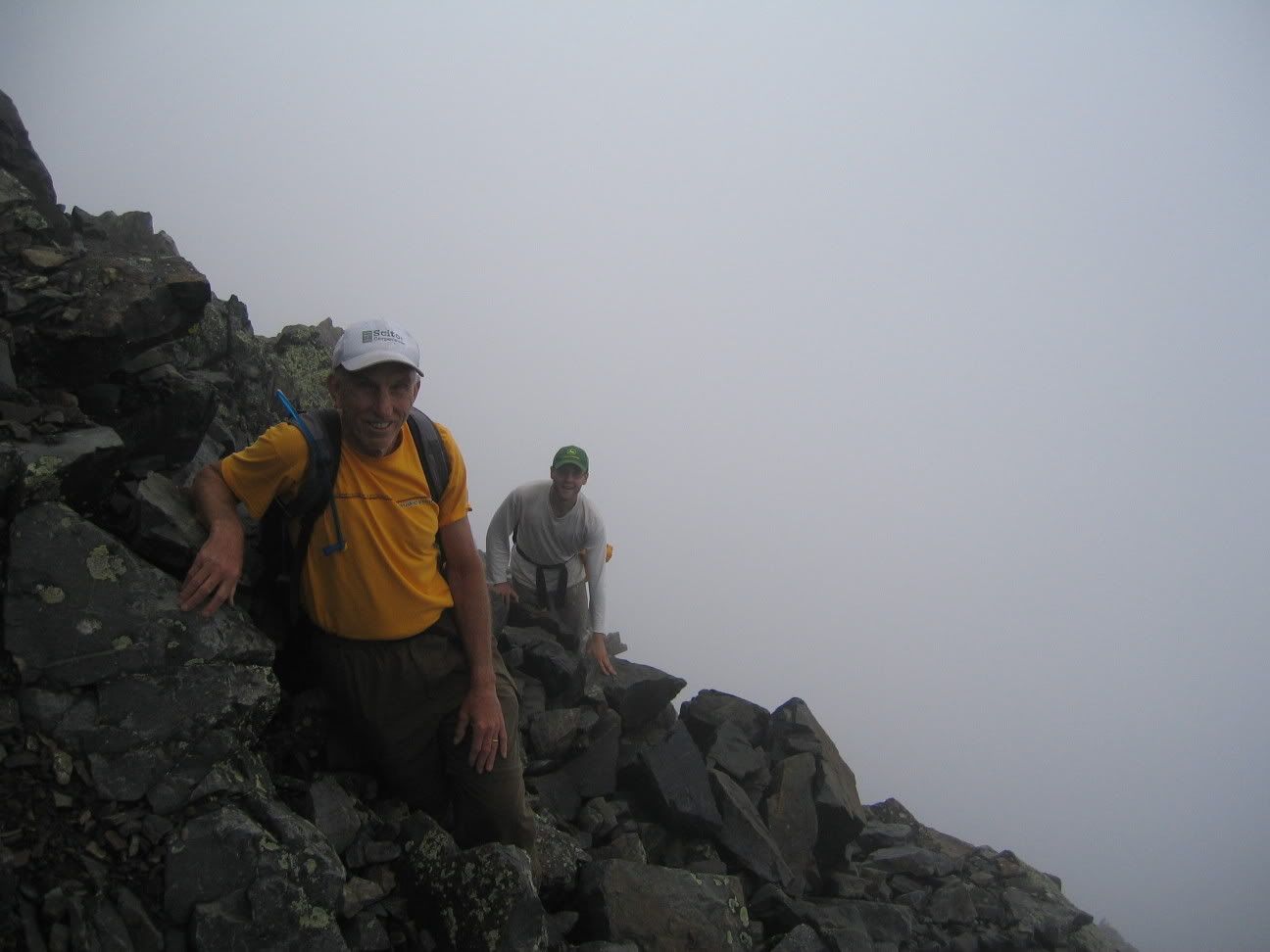 Route finding issues aside, Mt. Wilson is steep. There is no trail and no switchbacks. It is true class 3 scrambling from beginning to end. The rock is loose and we were continually knocking small and large rocks down the hill. We tried to stay in groups to minimize the rock fall danger and thankfully all returned home safe. After several hours we made the final summit ridge.

This ridge is truly something. It is only 150 feet long (give or take) but it is seriously exposed. It is class 4 climbing with 2 extremely exposed and awkward moves. For the first one I had to lay down and shimmy past a rock and feel blindly with my left foot to find a foot hold. The second crux forced you to climb up and around a boulder with few handholds. While not super difficult climbing the exposure added another layer. Both sides of the ridge are accompanied with exposure of several hundred feet. Even if you were to survive a fall, the ground beneath that is so steep that you wouldn't be able to stop yourself. It was truly an awesome ridge and it forced you to really pay attention to every foot and handhold. Here is a shot that shows the ridge. Pete is a few feet from the summit and I am on my way back down the ridge: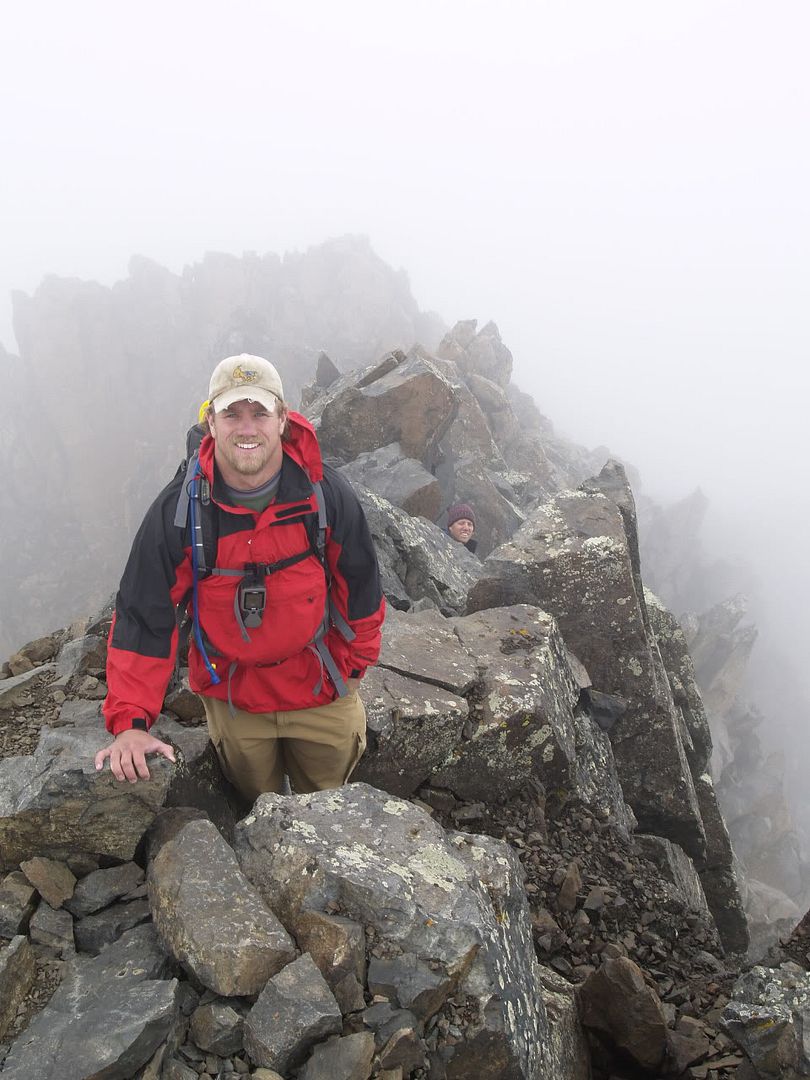 UPDATED PHOTO - This photo of Pete and I decending the ridge really gives a great perspective on the exposure we faced on that final summit ridge: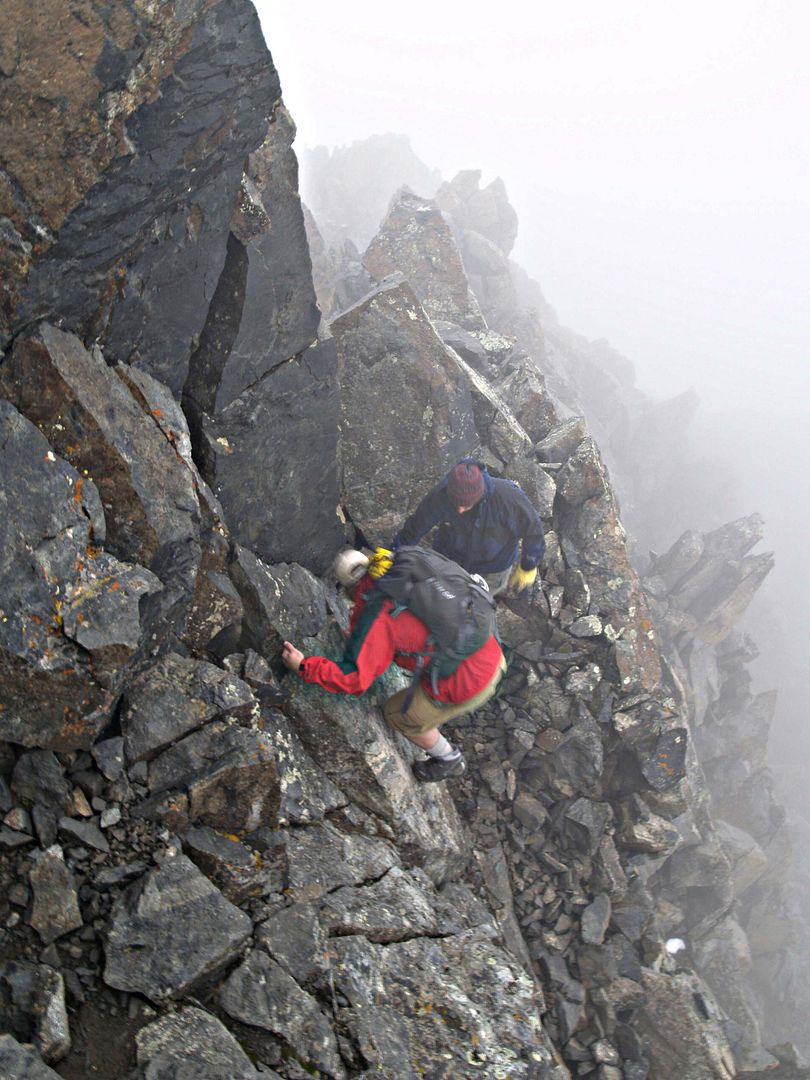 Pete, Paul, and I all summitted. Joel and John made the summit ridge but thought better of it and headed back down. After some summit photos, it was time to head out. Mandatory summit photo:

Mostly due to weather we decided against the traverse. That turned out to be a good decision. Throughout our decent it rained, hailed, and snowed on us. All of that combined with intermittent sunshine made for an interesting decent. On the decent it almost seemed like every man for himself. Pete went one way, Paul and I another, and the other 3 were already well ahead of us. Pete made it back to the basin first. Jerry had hooked up with John and Joel but they soon passed him and made the basin. Paul and I stuck together until we caught up wtih Jerry. Then I took a left turn (where I should have gone right) and I was alone. It was after my departure from Jerry and Paul that something began to go wrong with my knee. I have noticed this pain before but not like this. Regardless, after about 90 minutes of routefinding, I met up with Pete, John and Joel who were waiting in the basin. John and Joel headed for camp and I had a quick bite to eat. It was time to head back to camp. The final mile and a half back to camp seemed to take forever. My knee was killing me. Pete took my pack for the final mile to camp. We made camp and laid down for a rest.

The stats:
- 3000 feet of elevation gain
- 14 feet per minute average ascent rate
- 16 feet per minute average decent rate
- 7 Hours roundtrip (4:15 up, 25 minutes on top, 2:20 down)
- 3.9 miles

During our early afternoon nap, Pete and I thought we may want to head out. With my knee getting worse and with any hope of more summits gone, we thought it best to head home. There were a couple issues with the weather and rides home. We spoke with the rest of the group and they decided they wanted to stay another night but also decided they could all fit into John's truck. Pete and I waited for a break in the weather. It rained for aabout an hour before we got our break. We quickly broke down camp, packed up, and we were on our way just as it was starting to rain again.

The hike out was pretty straight forward. It did rain for most of the trip. The rain made the trail a sloppy, muddy mess. At several points the trail was flodded out so we would just shorcut through the meadows. My knee slowed us down a bit and we were also slowed down when Pete realized he had lost his cell phone. A testament to the type of people that you meet in the back country is that someone from New Mexico did find his phone and returned it to him. Anyways due to my knee and the lost phone it took us just over 3 hours to hike out. We also met Pete's friend Chris at the trailhead. They were hiking in for an attempt at all 3.

The stats on the hike up to the lake:
- 2100 feet of elevation loss
- 19 feet per minute average ascent rate
- 325 feet of elevation gain
- 38 feet per minute average decent rate
- 2.5 hours one way
- 4.9 miles one way

After loading up the truck and cleaning up a bit we were on our way back home. The San Juan (midnight) express was in full effect as it is at least a 7 hour drive. I wasn't home until almost 2:00 in the morning. A great time with good friends. Once again we aren't sure which mountains we are headed for next. Most likely something in the Sawatch or perhaps Pyramid or Capitol. Stay tuned! Finally - all of the photos that I have from this trip have been posted here.