Room 8065 - MS Westerdam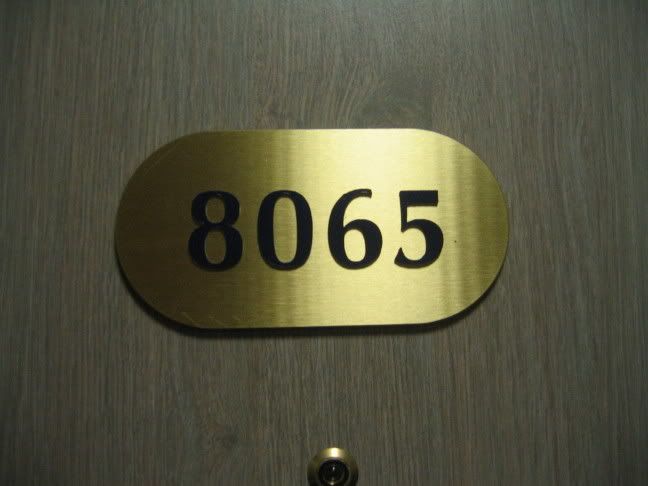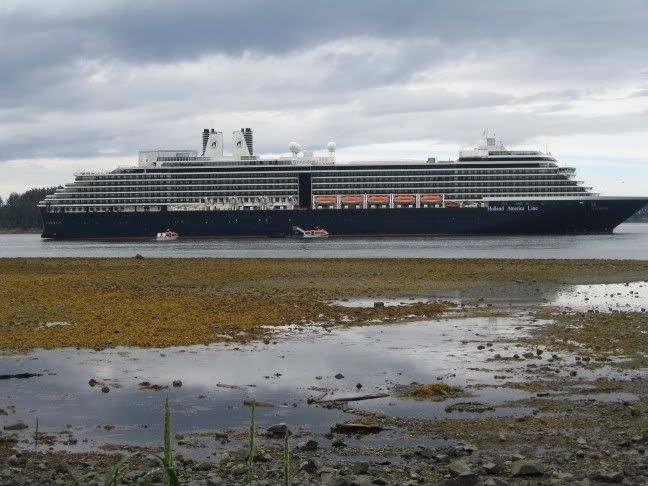 Finally! A week away to relax. Dana and I spent the week of July 9 through July 16 aboard the MS Westerdam on a cruise to Southeastern Alaska. Below is a day by day "story" of what we did, saw, and experienced. I have linked several photos here but have also posted close to 100 photos divided up into several pages. Those links are posted throughout this post (please RIGHT click on said links and hit "Open in new window" or else you will have to naviage back the this page).
Sunday (Travel to Seattle and Start of the Cruise)
Sunday morning came early. We had a early flight out of DIA to Seattle. We had dropped the girls off the night before so all we had to do was get up and get to the airport. Everything went great. We wanted to get seats on the left side of the plane to get a view of Mt. Rainier. The view we got was excellent (if you ever fly into Seattle, sit on the left side of the plane):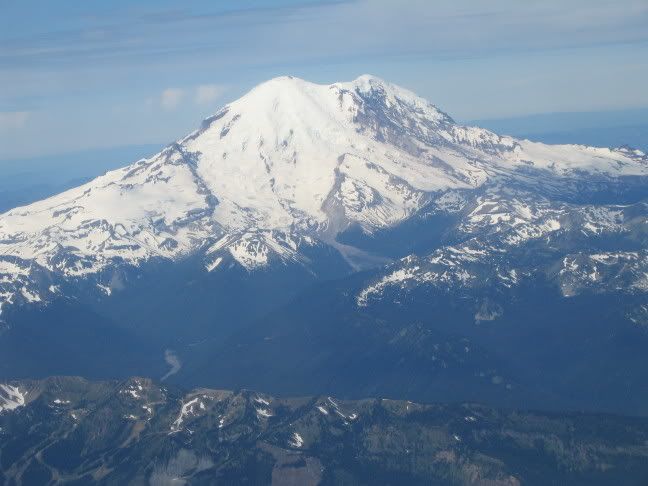 We picked up our luggage and caught an easy taxi ride to the port. Check in went surprisingly smooth. A quick check of your ID and a scan of your bags (just like the airport) and the next thing you know you are on the boat! The rooms weren't immediately available but they did have food. We had some lunch and then spent some time exploring the boat. The boat had 12 decks of which 5 had various activities. The ship had multiple places to eat or do various activities. Also a library, a shopping "mall", internet center, basketball court, 2 pools, and endless other areas. The ship also had 3 decks which were used for lounging, sightseeing, exercising, etc. After some exploration our room was ready. The room was excellent. Plenty of room and a deck which we made excellent use of for whale watching (more on that later). We spent some time in the room and finally the ship sailed at about 5:00 (an hour delay for a couple people that never showed). We took a few photos of Seattle, had some dinner, and then watched the islands pass by as we made our way to the Pacific.

Monday (At Sea)

Monday was spent entirely at sea. The cruise started right with this sunrise over the Northern Cascades: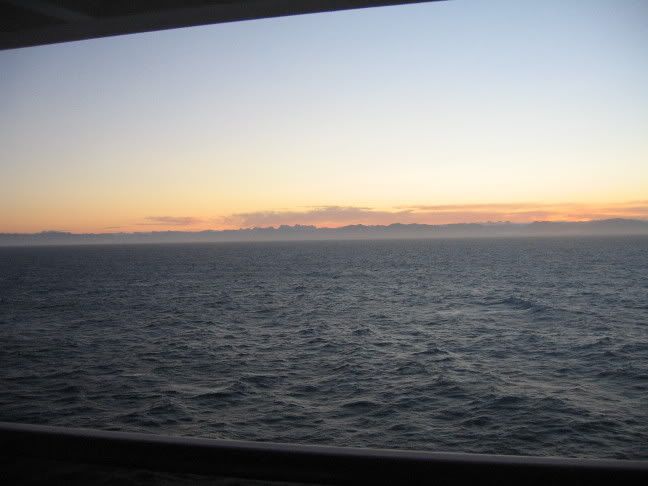 After breakfast we started the cruise by getting massages. It was my first time getting a massage. I managed through it and it turned out to be a great way to start relaxing. After the massages, I wanted to spend some time looking for whales. It didn't take long. After about 15 minutes of staring a the ocean, I saw the first one. Basically, it looks like a large puff of smoke coming out of the ocean. This is obviously their blow hole. The only whales we saw on the cruise were humpback whales (no killer whales). We also saw some Dall's Porpoise. It is a relative of your standard porpoise but has black and white markings like a killer whale. It essentially looks like Flipper and Shamu had a baby. Anyway, we saw 3 groups of whales and 5 groups of Dall's porpoise. That night was also the first of 2 formal dinners. Dana and I got all fancied up and went to dinner: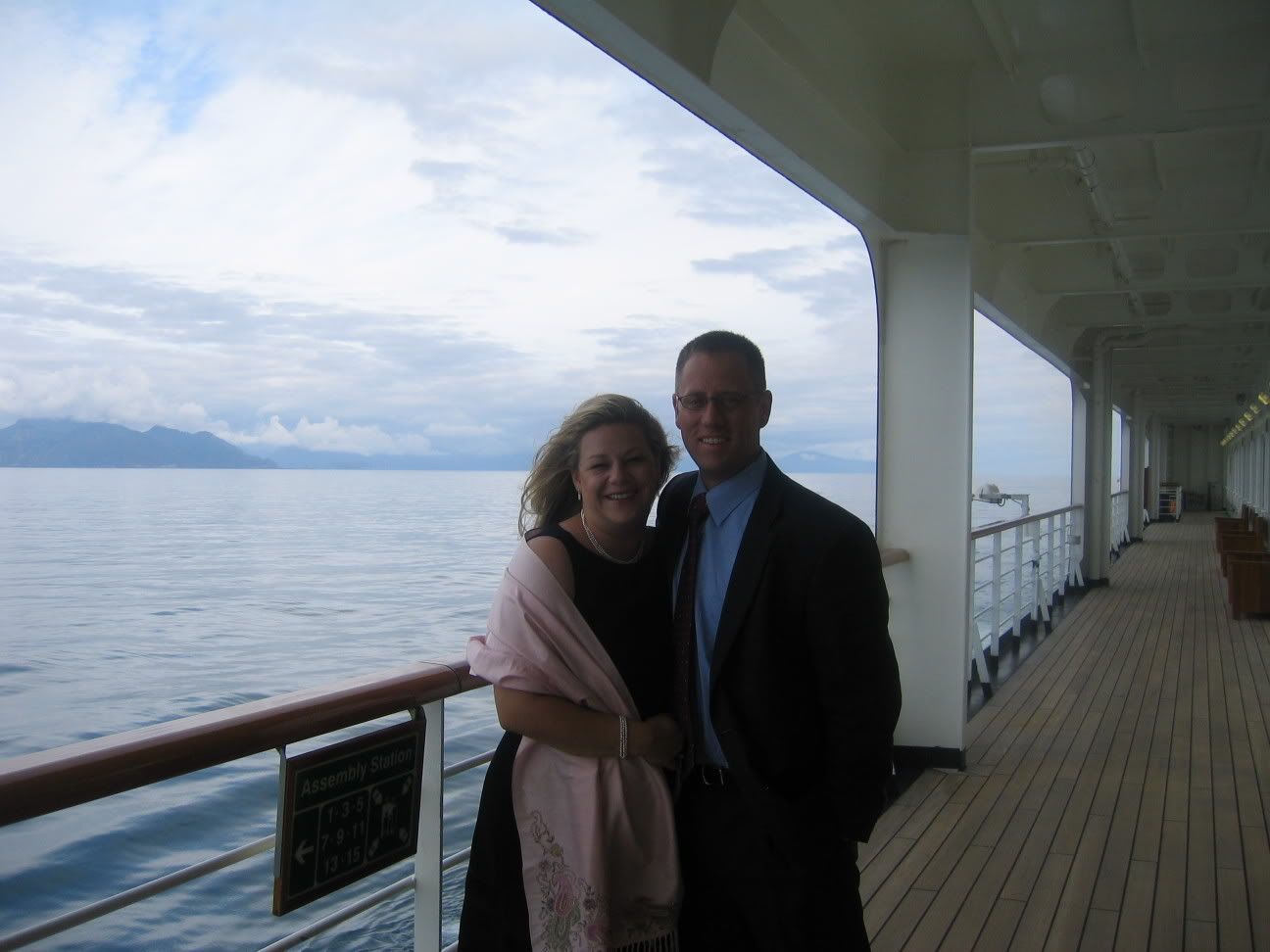 After dinner was spent we returned to our room to find that the cabin steward had folded a towel into the shape of an animal. This was something he would do almost every night. We took a photo of each and they are posted in the album below. We finished the evening with more whale watching and more exploration of the ship. I also took the opportunity to have dinner (again) with of course more dessert. This was also when we realized we were getting further north. Sunset wasn't until 10:30!

The photo album for the first two days and a few other photos can be found here.

Tuesday (Hubbard Glacier)

Tuesday came early. Again, realizing that we were further North, the sun rose at 4:00. Tuesday was the day we were to see Hubbard Glacier. Hubbard Glacier (if I remember correctly) is the largest glacier in Alaska. It is 78 miles from the source to the terminus in Yakutat Bay. Yakutat Bay is just South of Glacier bay and about 250 miles North of Juneau. It took us the better part of the day to get even close to the entrance to the bay. While still another day at sea, the scenery was ultimately better. We were close to land and passed by several high mountains. We passed by 16,000 foot Mt. Vancouver and also passed by the second highest mountain in North America. Mt. St. Elias stands at 18,008 feet. While I get to see mountains that reach 14,000 feet on a daily basis, there is truly something impressive and special about a mountain that rises that far right out of the ocean. The sheer scale of these mountains (and Alaska for that matter) is breathtaking. Me with Mt. St. Elias in the background: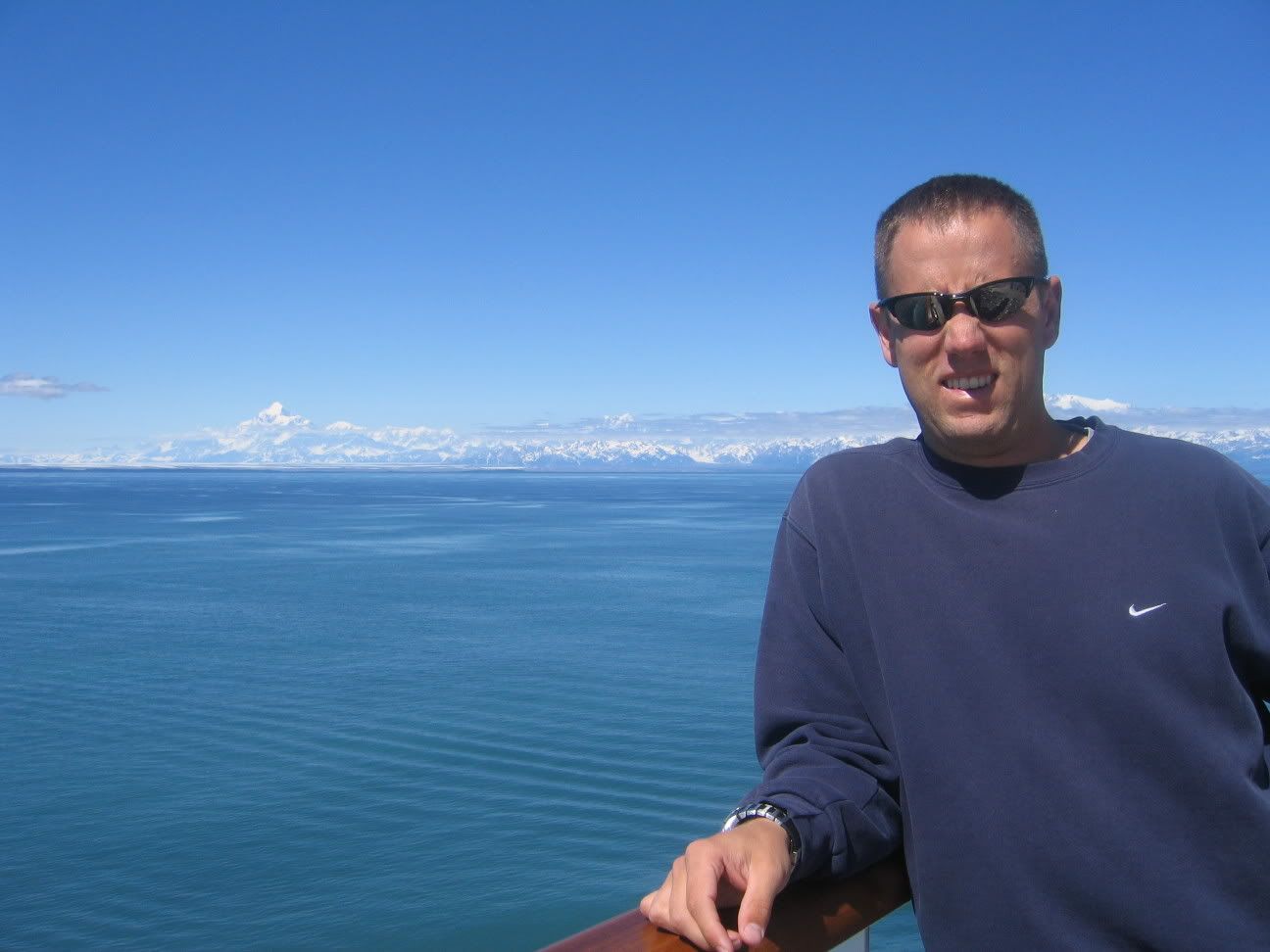 Mt. St. Elias is just at the North end of Yakutat bay. After passing near the massif, we took a right hand turn and headed into the bay. As conditions in the bay change daily and there are MANY icebergs, a pilot is required to help the captain navigate the bay. Getting the pilot on board is kind of an interesting process. A smaller boat pulls alongside the cruise ship and a guy essentially jumps from the smaller ship onto the cruise ship through an open door on a lower deck. Here is a photo of the pilot and his assistant getting ready to board our ship: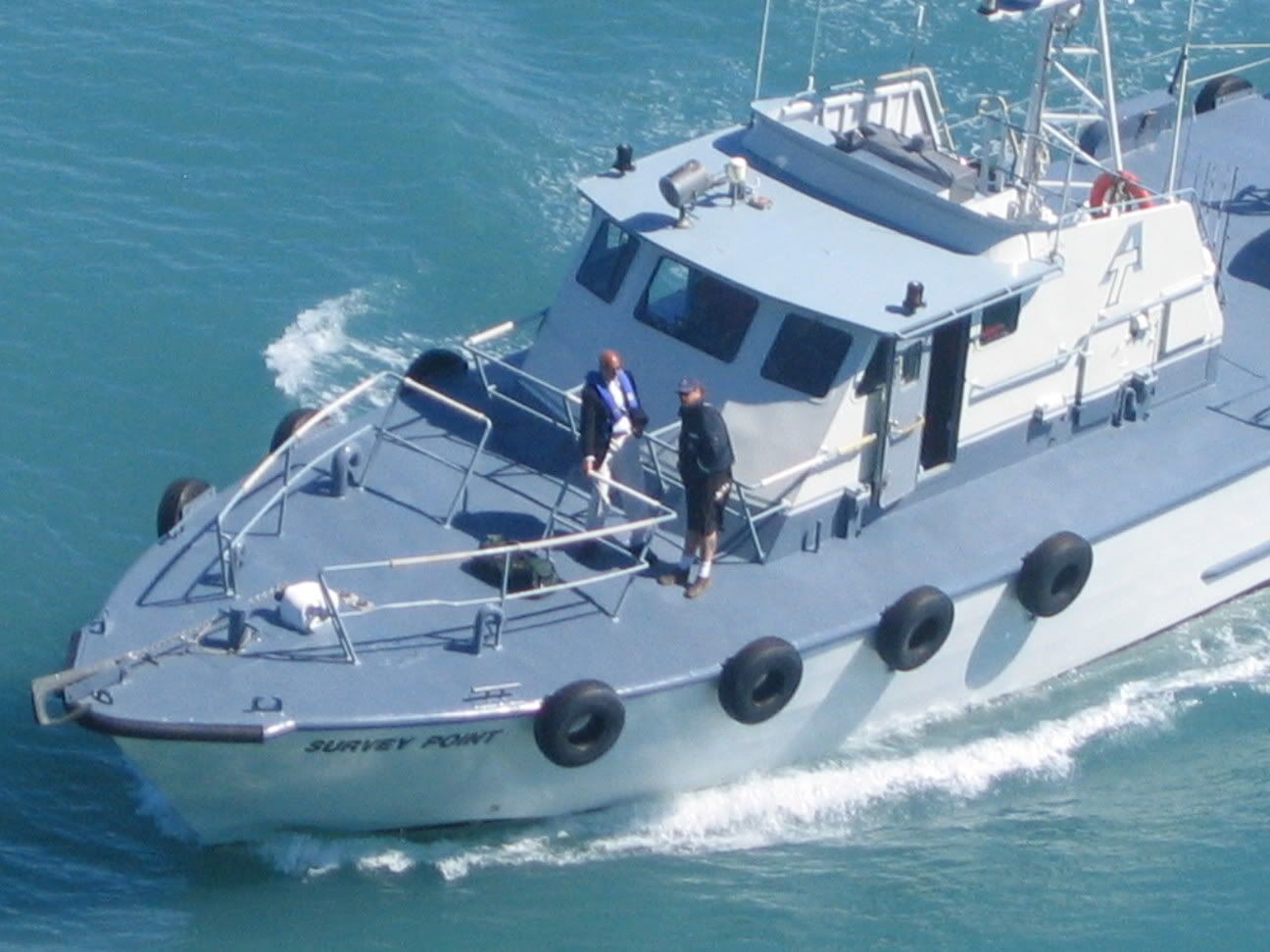 At this point with all the icebergs and the shallower water, we really slowed down. It took us almost 2 hours to get into the bay and up close to the glacier. The scenery was spectacular. Mountains rising out of the ocean, icebergs, and glaciers (there are 3 in the bay). There was also a ranger from the National Parks service on board. He would come over the PA from time to time and tell us interesting facts about the area. One was that we were actually in a rain forest. It is a huge temperate rain forest that runs from Yakutat Bay almost all the way to the Southern end of Alaska. Here is a photo of Dana in the bay on our way toward Hubbard Glacier: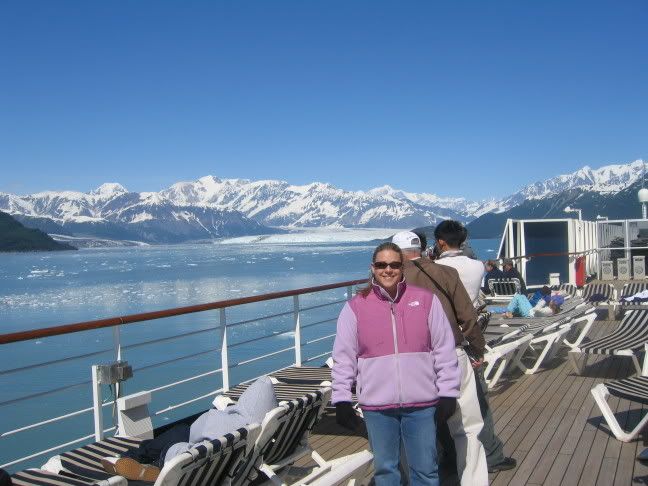 Here is a photo of both of us closer to the glacier: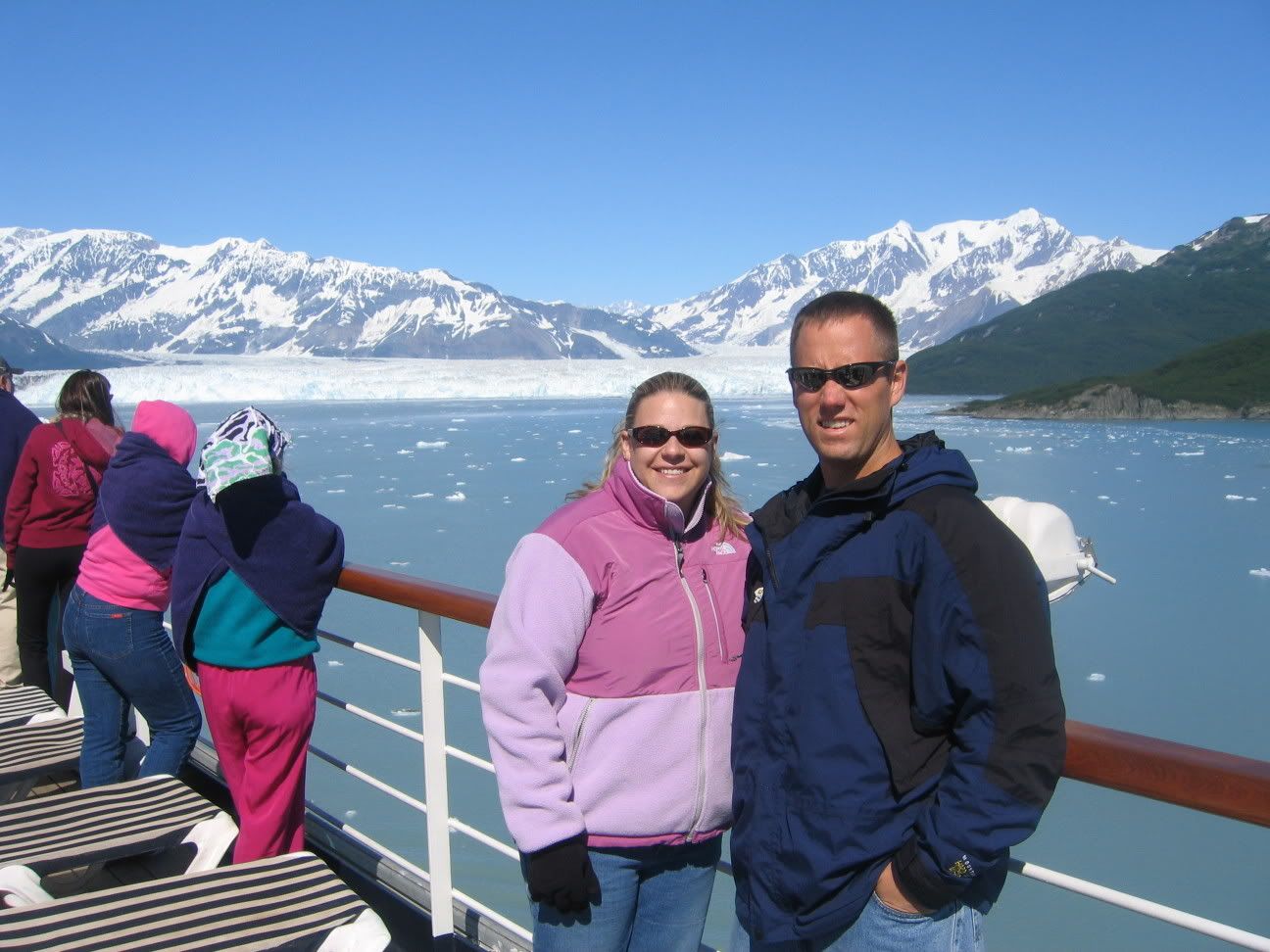 After a couple hours making our way past icebergs we finally got as close as we were going to get to the glacier. Again, the scale is breath taking. The face of the glacier is 6 miles long and ranges from 300 to 390 feet in height above the water and spans an additional 200 feet below the water! The National Park Ranger again got on the PA and gave us some glacier info. Blah, blah, ice. Blah, blah, old. Blah, blah, global warming (liberal propaganda). Anyways, the one piece of interesting info we did hear was that this glacier has actually been steadily ADVANCING for the past several years (so much for global warming). Then he got off the PA so that we could watch and listen to the glacier "calve." Calving is when chunks of the glacier melt and fall off of the glacier into the ocean. Words can not describe how awesome it was to watch this. To watch a piece of ice that is several hundred feet tall slowly lean over and finally CRASH into the ocean was truly awesome. The sound is exactly like thunder. Really cool. The photos below are a series of 5 photos in chronological order of the aftermath of a large "calving." For perspective, remember that we are 1/2 mile away from the face and also that the face is about 350 feet tall in that part of the glacier.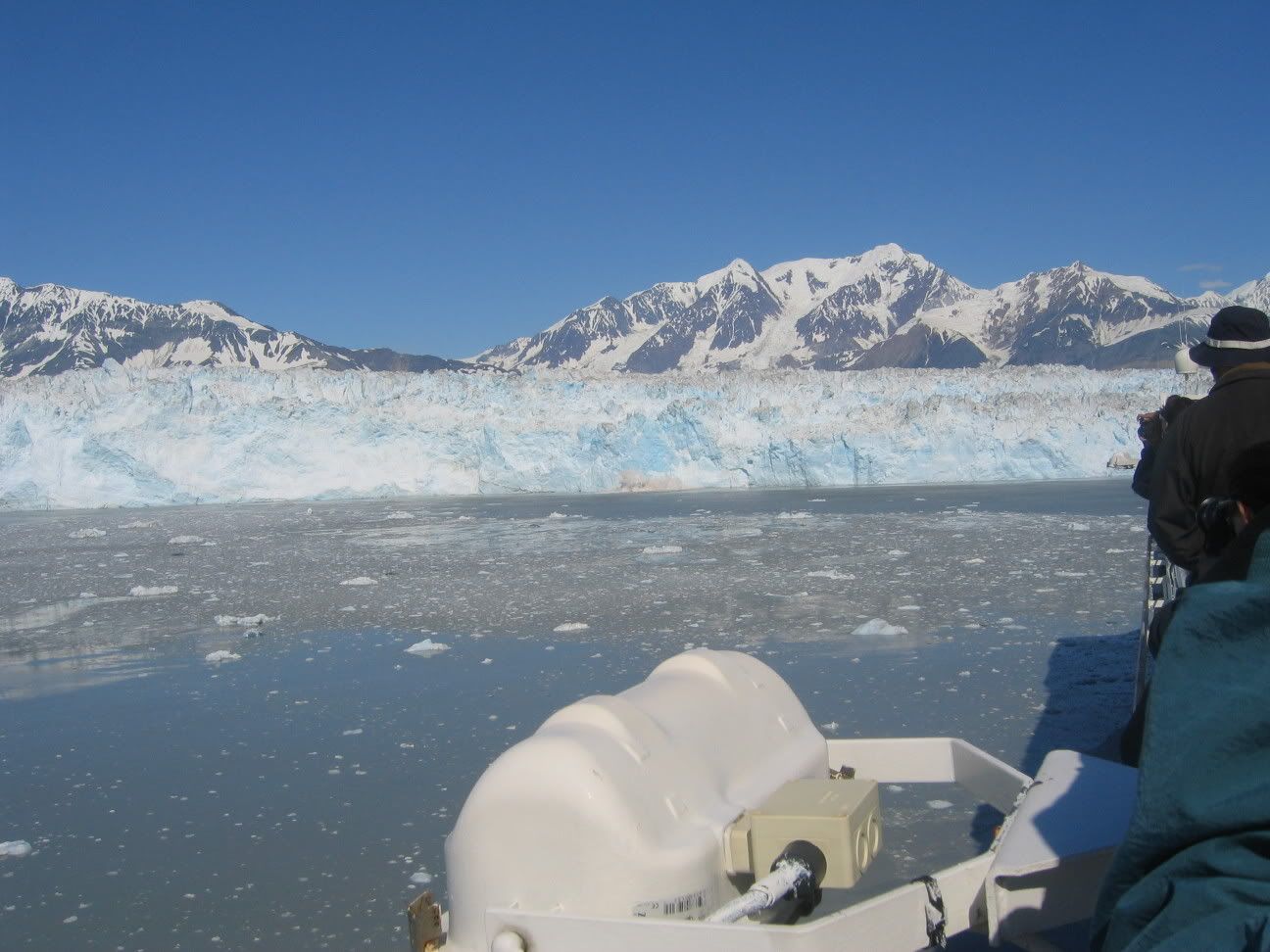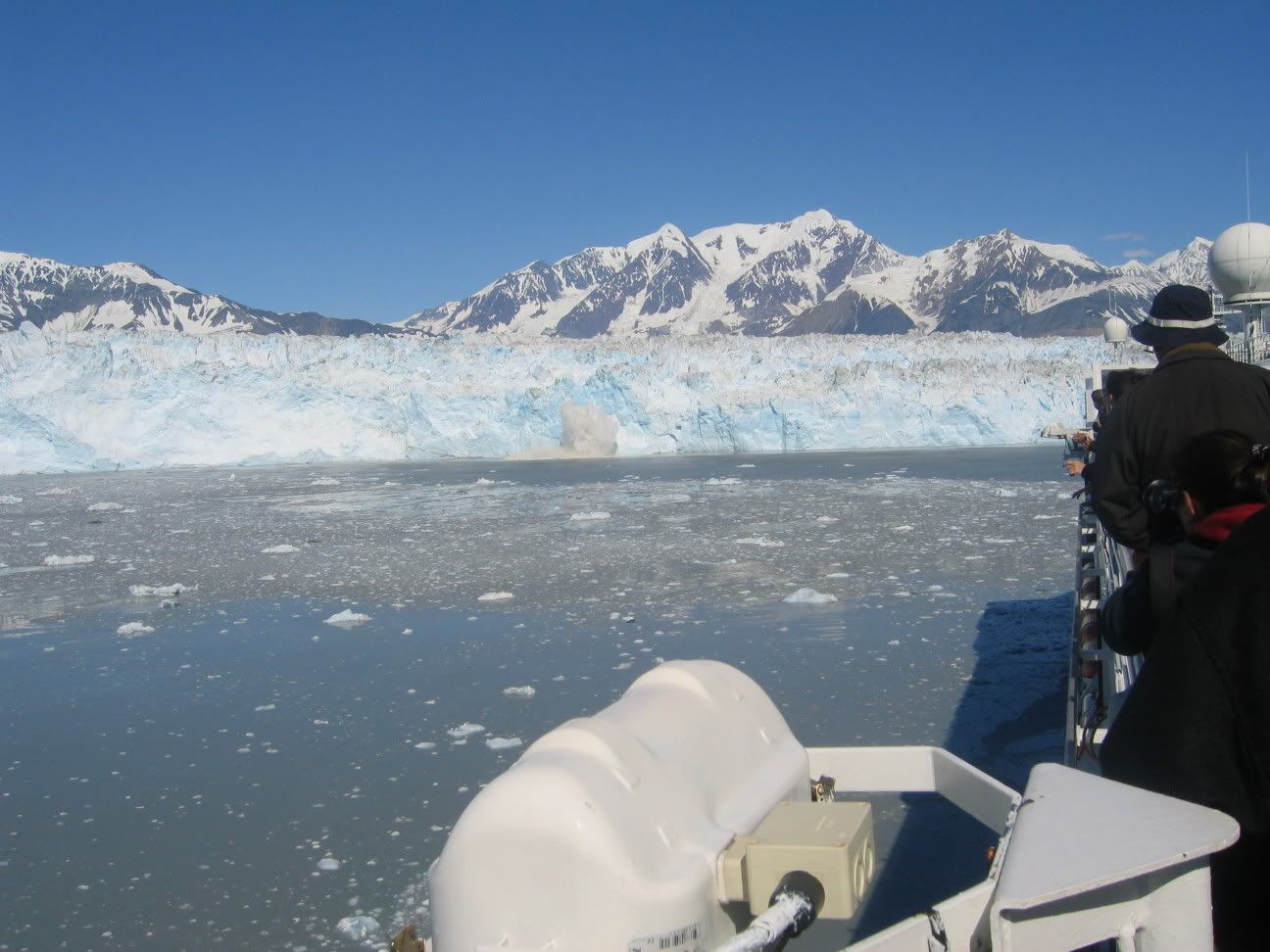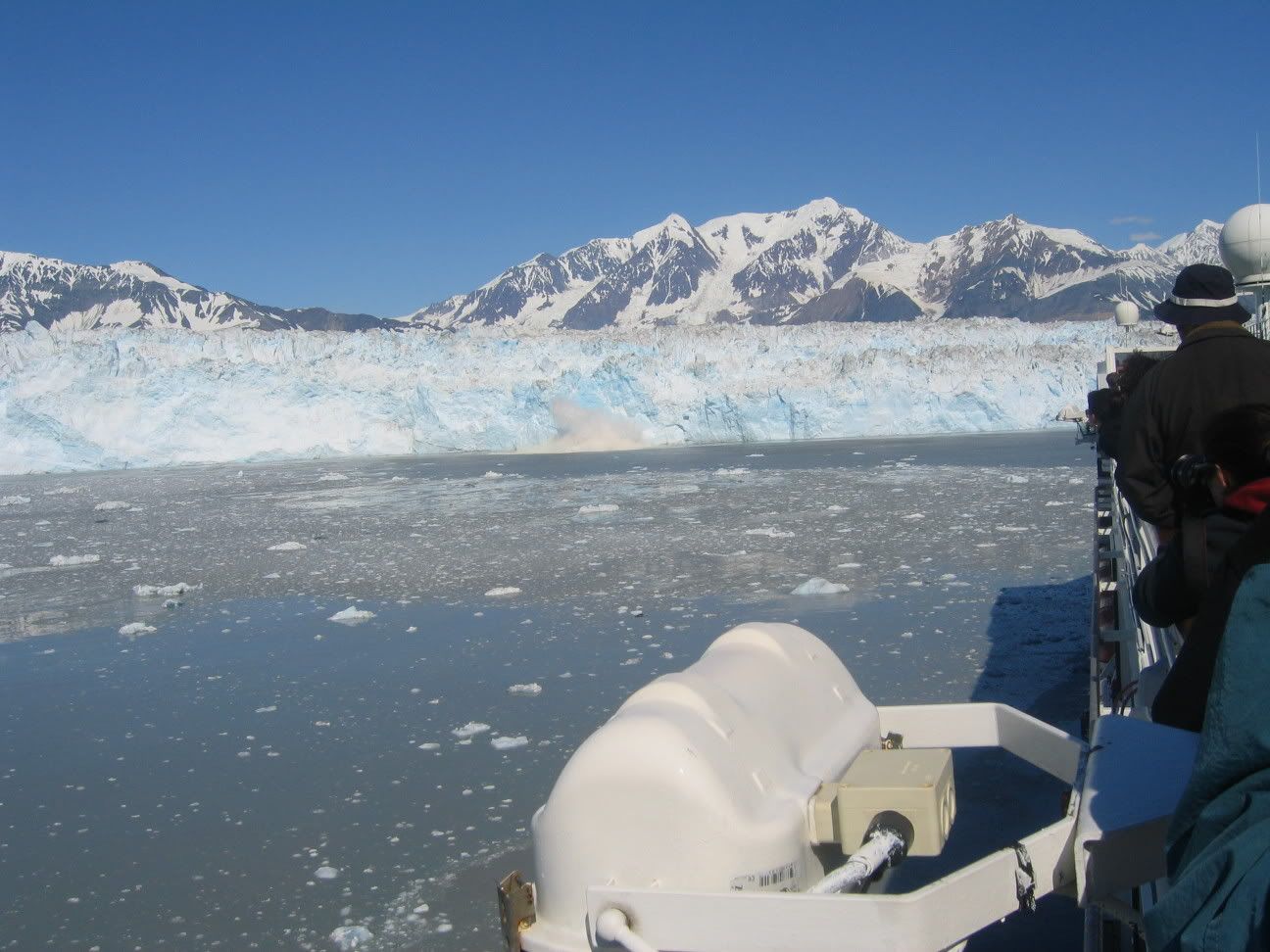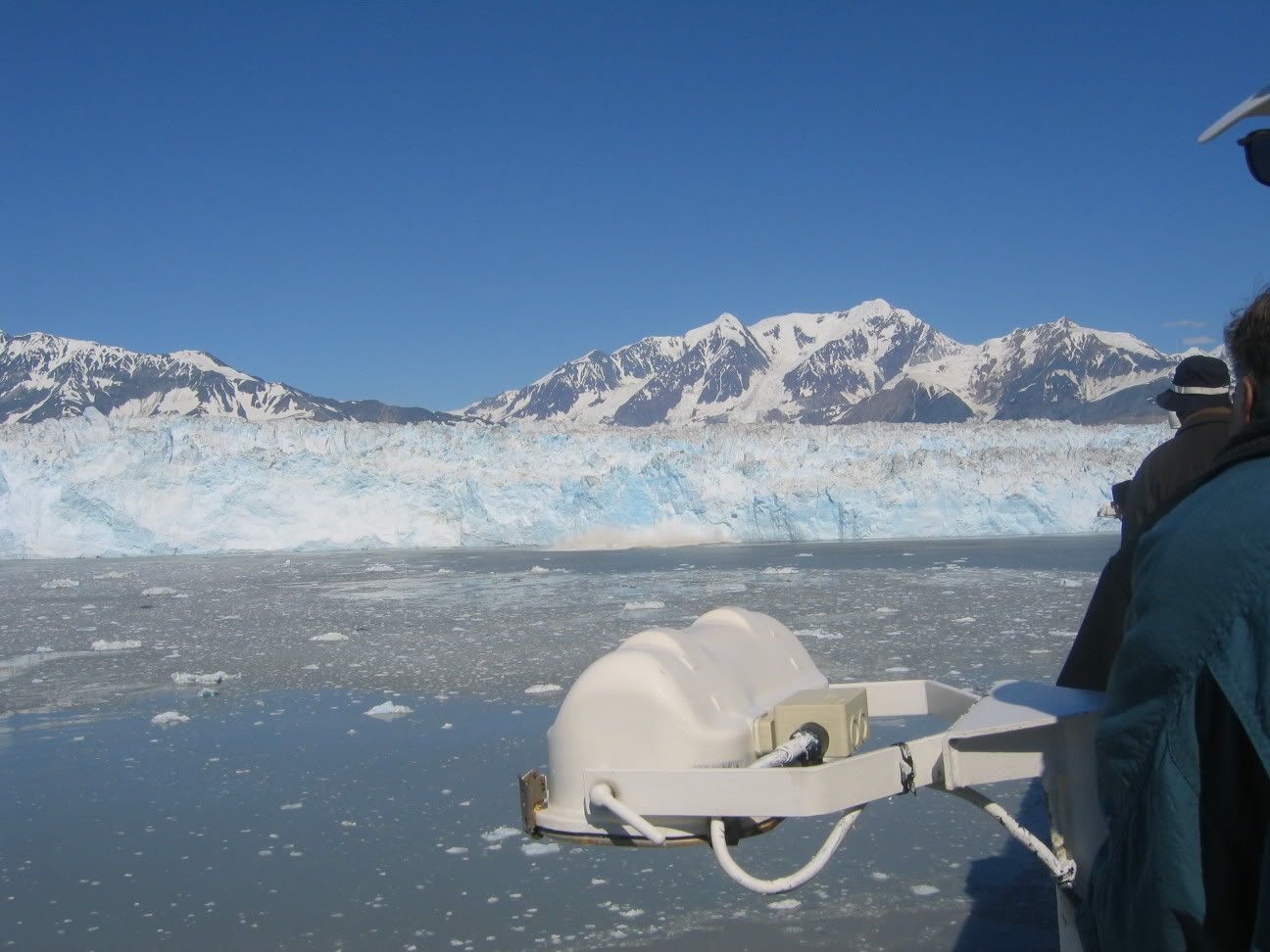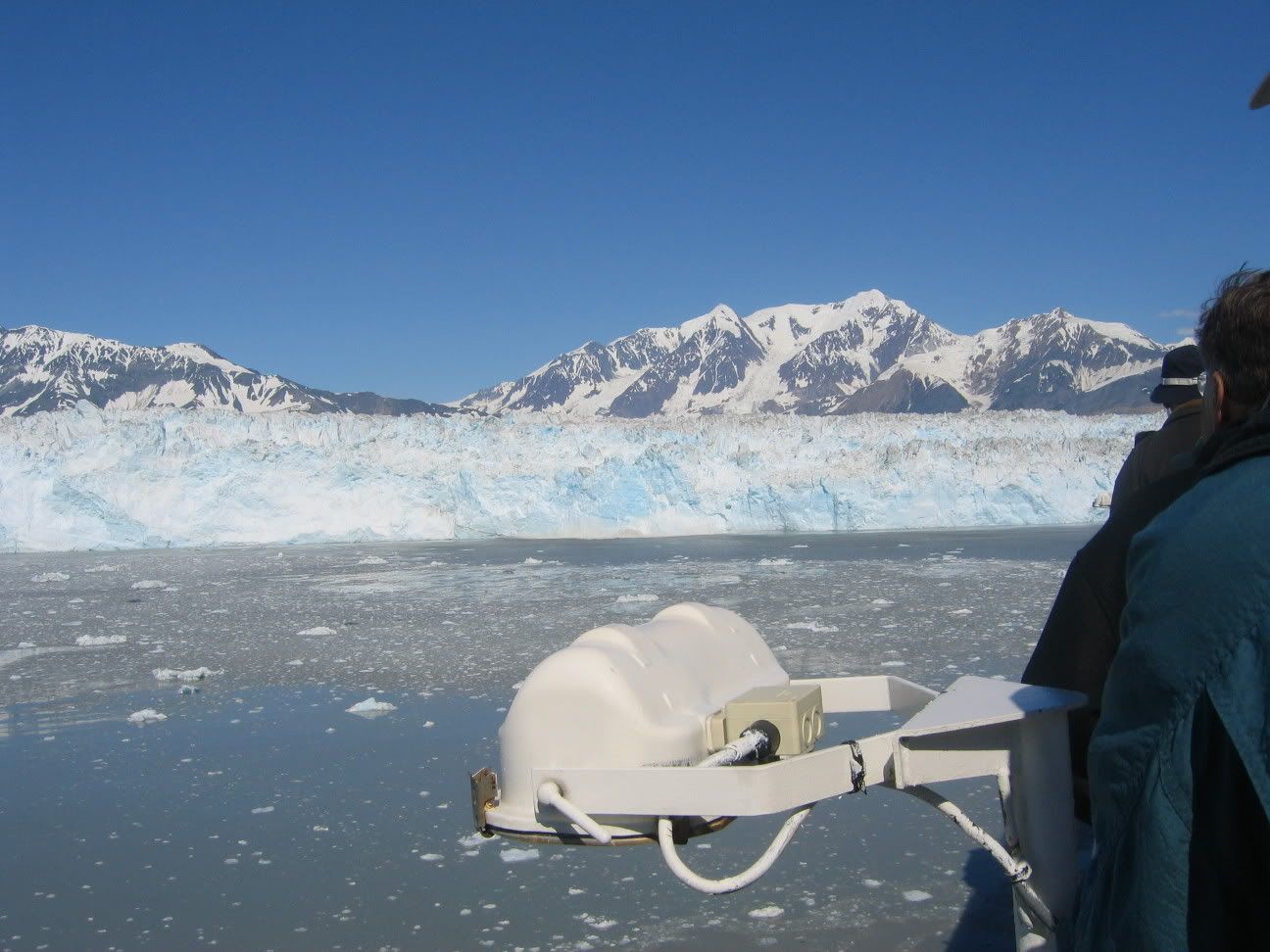 We spent almost 3 hours at the glacier. The captain turned the ship several times so that all sides of the ship could get a good look. After a time (and after one HUGE calving) we turned and headed back out of the bay. We dropped off the pilot (same process in reverse) and turned south for Juneau. We spent the evening and night reading and looking for more wildlife with no success. The photos from our day at Hubbard Glacier, in Yakutat Bay, and the surrounding scenery can be found here.

Wednesday (Juneau, Mendenhall Glacier, and Whale Watching)

Wednesday we woke up to find ourselves already in the fjords near Juneau. We had room service breakfast that day. One of the benefits of a cruise is that it is all inclusive. One of the downfalls of a cruise is that it is all inclusive. I must have eaten 6 or 7 times a day. The food is that good. Anyway, we still aren't sure why but on our way into and out of Juneau we had an armed escort:




Maybe it was because it is the capitol? Regardless, Juneau is a town of only 30,000 year round residents. On the way up the fjords we started to notice bald eagles. As it was early morning, they were out and active. We must have seen 2 dozen bald eagles on our way up the fjord. The town had the feel of a western mining town. Here is downtown Juneau: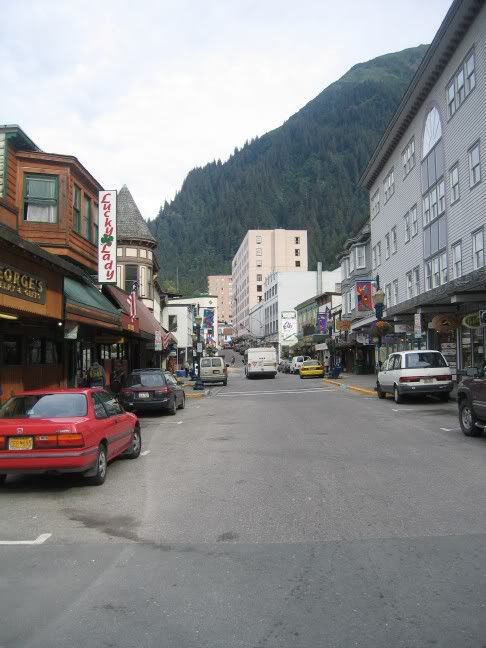 Dana and I had booked separate excursions for the day but neither of them started until mid morning. We spent the first part of the morning sightseeing and shopping. I remember as a kid "needing" some tourist trinket or another that was "authentic" and "from" the tourist place we were at. Amazingly all that same junk was for sale in Juneau! After getting some shopping done it was time for the excursions. Dana went on a whale watching tour and had a visit to Mendenhall Glacier. Unfortunately we only brought one digital camera and the disposable camera we brought for Dana didn't take the best photos. Regardless, Dana had an excellent time. The tour bus driver was entertaining even when the bus broke down! After the visit to the glacier she boarded a boat to go whale watching. The captain of the boat was a 19 year old girl that had spent her entire life fishing the fjords of Juneau with her dad. Dana spent several hours in the fjords near and around Juneau watching whales. They saw dozens. The captain would see them from a distance drive up withing 30 - 50 yards, turn off the boat and wait. The whales would surface, take a breath or two, and finally head under for a while. You would see their tail as the headed deep and that was the signal that you wouldn't see them again. They can stay under water for up to 7 minutes and can travel a long way in that time. Dana also saw several more bald eagles and a nest. Their nests are permanent and can weigh up to 2 tons! Sorry but the photos didn't turn out that well so I don't have any photos from Dana's day to post.

I spent the bulk of the day on a tour of Mendenhall Glacier. I was really excited about this tour. They picked a group of us up at the dock in a van and took us to the airport. At their offices at the airport, they geared us up with plastic boots, coats, pants, and a small pack. As usual, I was overprepared as I already had this gear but used theirs. Then it was time to go. They loaded us into a helicopter and as we took off, I saw something you would only see in Alaska. Their are two runways at the airport. One for regular planes and another for float planes: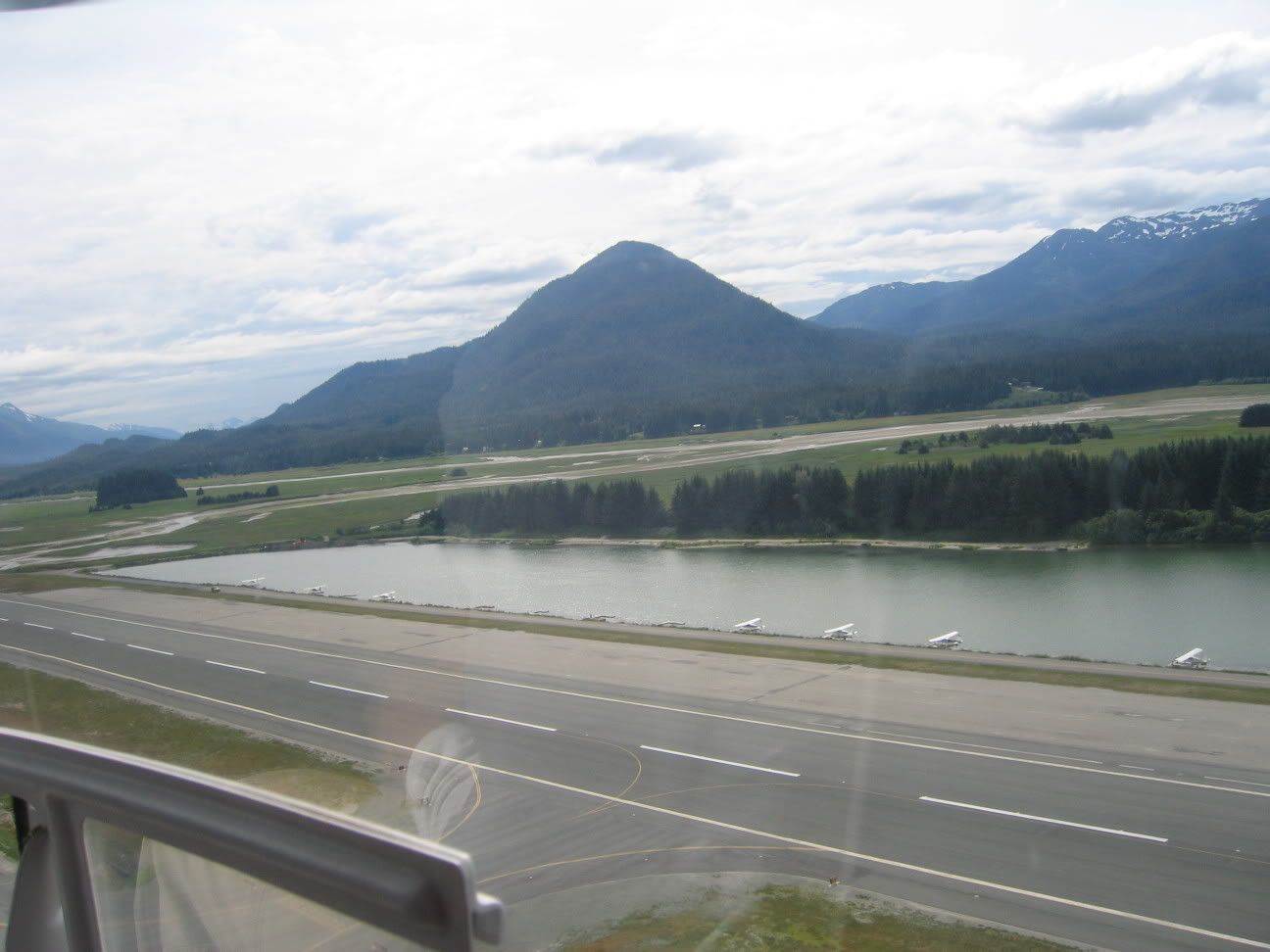 Our group was given a 20 minute helicopter ride up to the glacier. Along the way, we got some amazing views: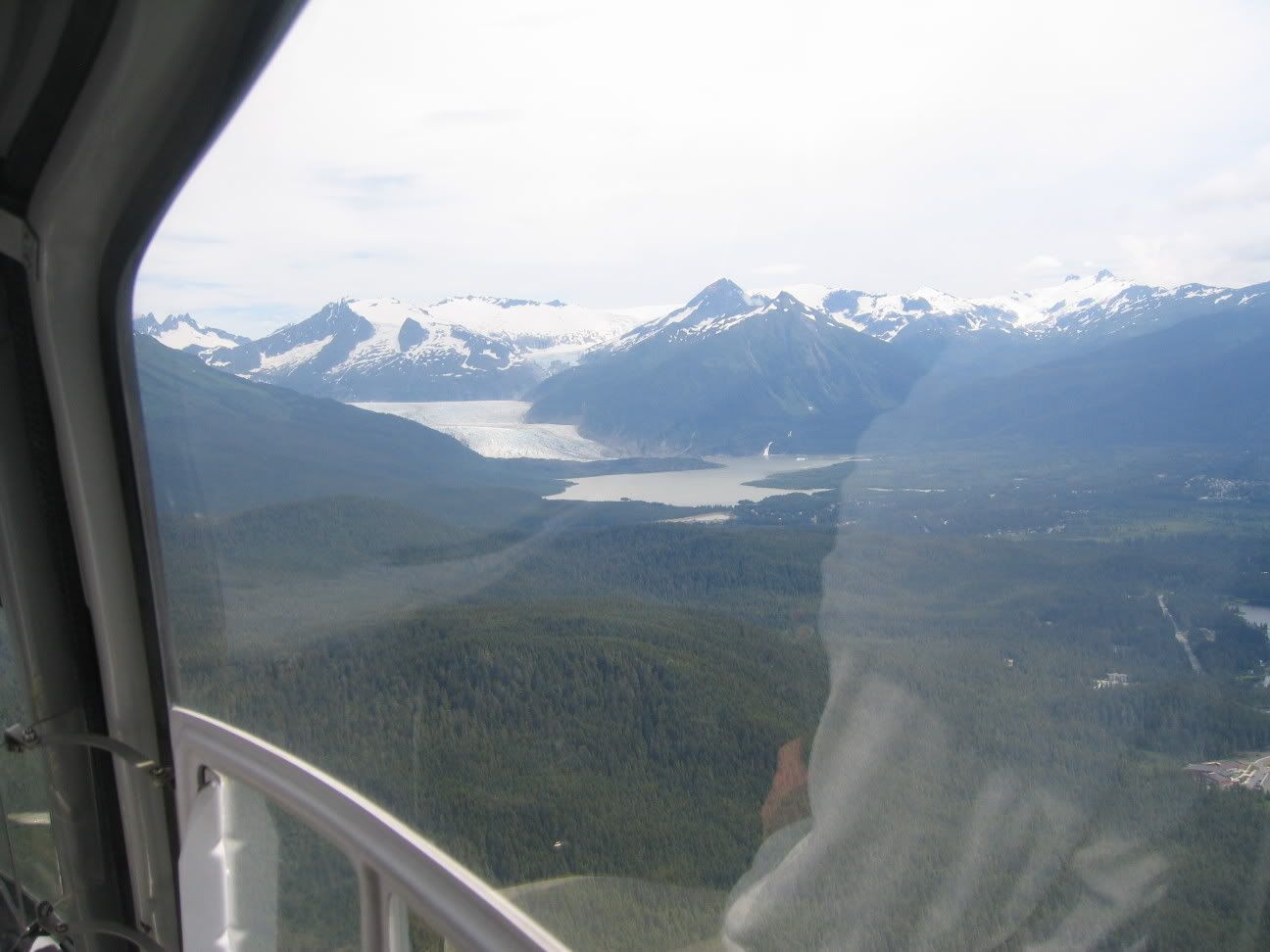 Here is a view of the glacier from above. For a sense of scale, notice the 5 helicopters and all the people on the glacier below: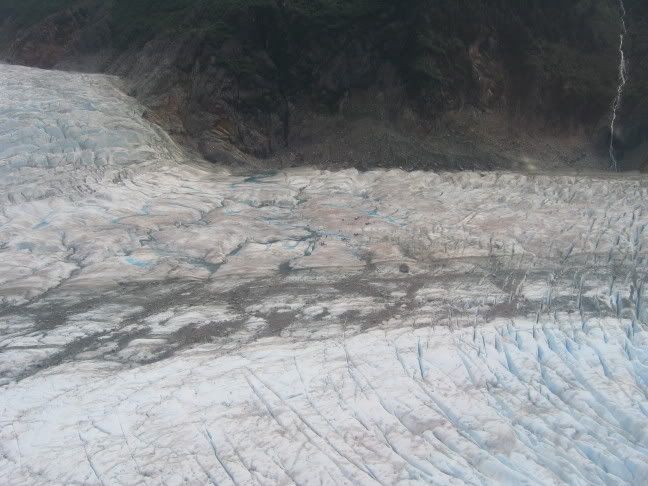 After landing, we were given an ice axe and we put on our crampons. We then spent the next 4 hours hiking around the glacier. It is difficult to describe the size of it. Over a mile and a half wide and 9 miles long. You feel so small. The surface of the glacier is like walking on rough ice. There are many pools and "rivers" of water that is melting off the glacier. This water is crystal clear and is excellent drinking water. It doesn't need to be filtered. Here is a photo of the glacier. Notice the "river", the "icefall", and the people up on the icefall (right center) will also give you a sense of the size: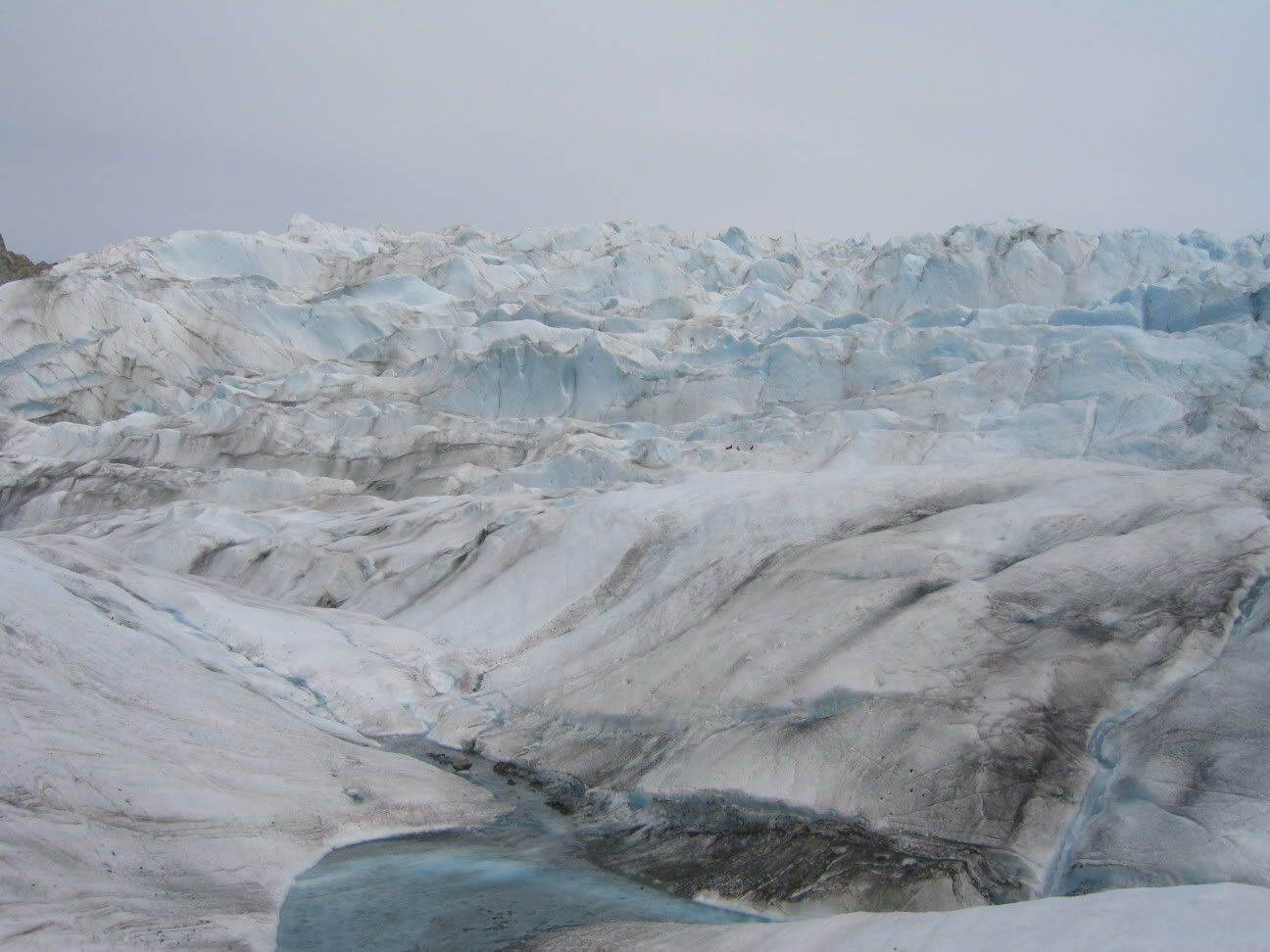 Here is an interesting photo. Me on a glacier with a mountain and a rain forest in the background. Where else but Alaska?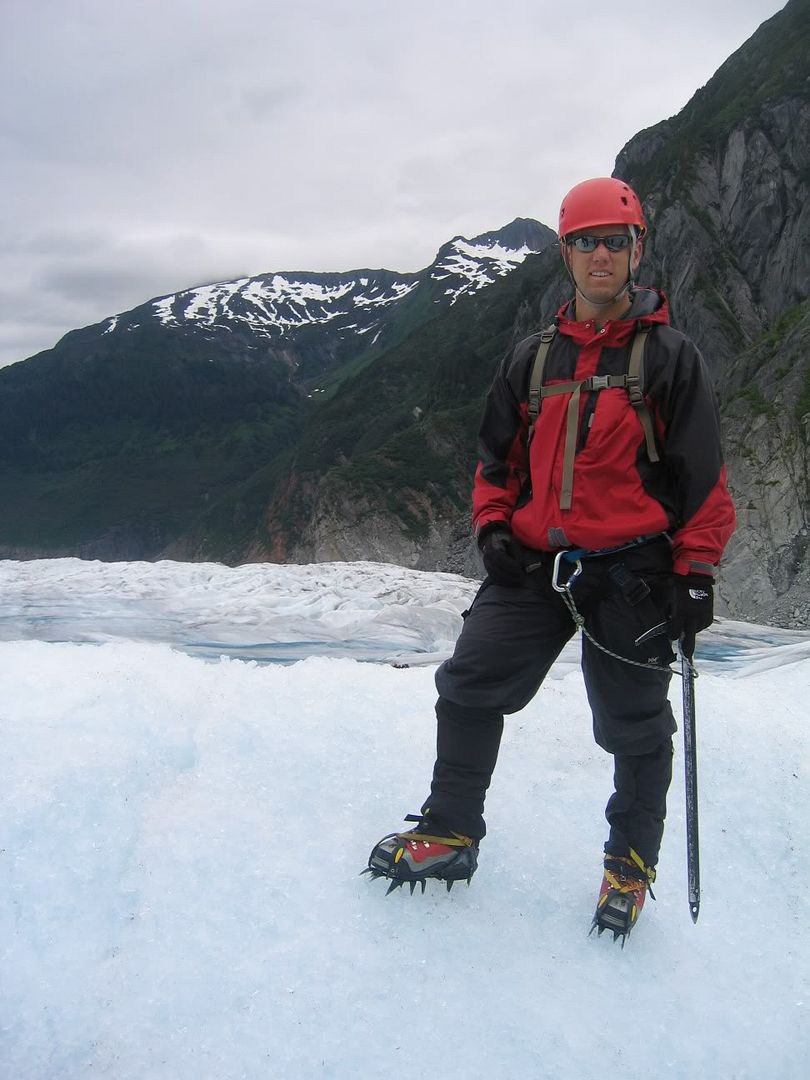 After a few hours touring the glacier we were given the opportunity to do some ice climbing. While I have done a bunch of mountaineering here in Colorado, this was my first time climbing vertical ice, and of course my first time climbing on a glacier:




After the glacier tour and climbing it was time to load back into the helicopter. As we were one of the last groups of the day we were given a longer 45 minute flight back to the airport. The pilot took us up to the source of the glacier: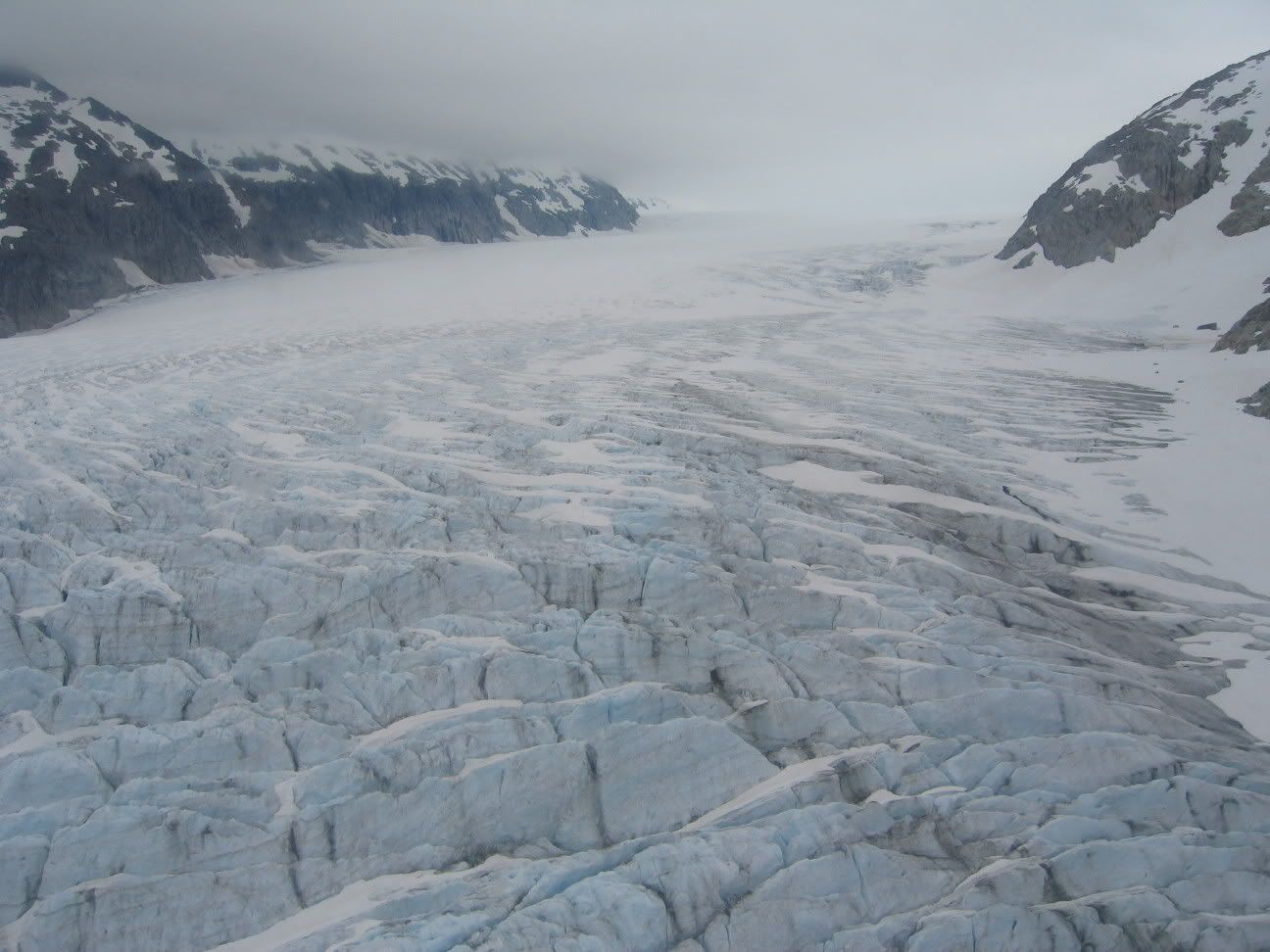 Then we went North a bit to another glacier. This glacier literally ends as the ice falls off of a cliff. This photo is a great view of that along with the fjords near Juneau in the background:




Then we were on our way back to Juneau: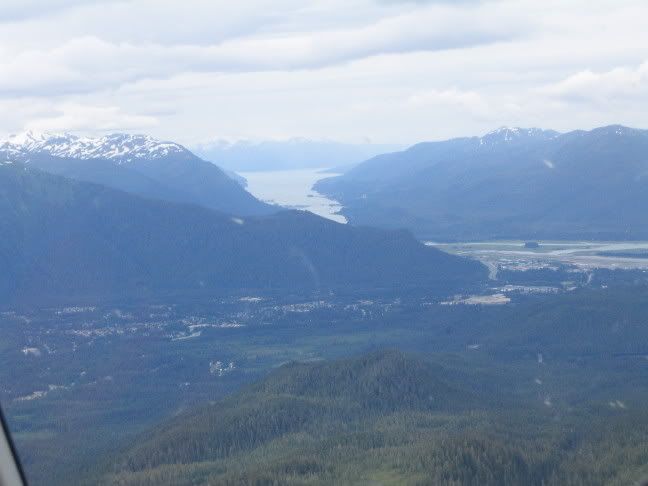 I took so many photos on this excursion and I really couldn't do the scenery justice in this blog. I took the time to post them online but without descriptions. If you want more detail, just call or e-mail. The photos of my tour can be found here.

We spent the rest of the afternoon shopping and seeing the sights around Juneau. Then it was time to go. Nothing of note that evening. We did some whale watching, had a dinner (or two for me), and that was about it. The Juneau photos can be found here.

Thursday (Sitka)

Thursday was our first day "off" so we did our best to sleep in. I find this incredibly difficult to do while on vacation so I was up before 6. Watching the early morning scenery pass by was something I really enjoyed. We were once again in the fjords. The area around Sitka was a bit different than Juneau. The rain forest climate was really obvious. The forests were amazingly thick and lush, the air was humid, and the town had a distinctly Russian feel. Sitka was the Russian capitol of Alaska when they owned it. We had no plans for the day in Sitka other than to get some shopping done and to see the town. We also wanted to visit the National Park that is in town. We started out by walking through town: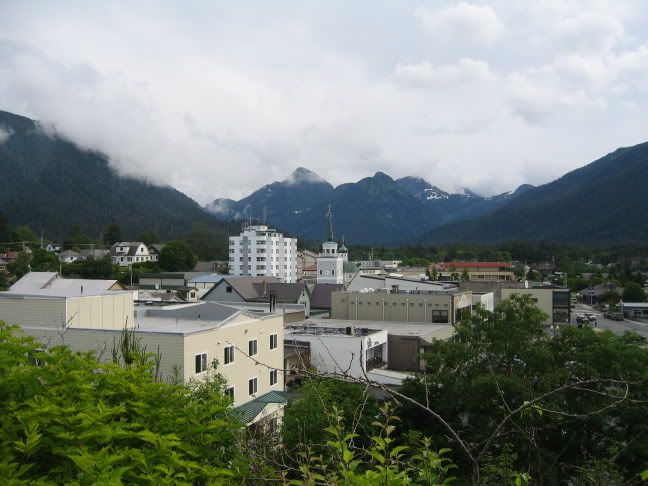 Sitka is home to the goldrush museum. It wasn't open that early and we weren't that interested. We took a few photos of the monument outside: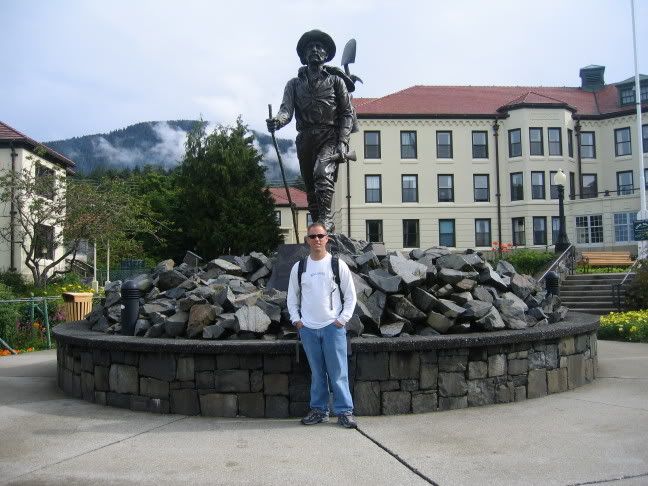 Then we got the shopping out of the way. Everyone knows how much fun that is. After that, we went to the national park. This was really interesting. The park is located on the site where an old fort was. The fort was attacked by Indians way back when Russia still owned Alaska. There happened to be an American war / exploration ship nearby. The ship helped defend the fort and take back the city. This ultimately led Russia realize that they couldn't defend / take care of Alaska and led them to sell Alaska to us for 8 cents an acre (if I remember right). Regardless the park sits on the site where the battle took place and has a path throught the rain forest. Here is Dana on the path:




That path was also lined with about a dozen totem poles. I guess for historical and cultural reasons totem poles can not be moved with out the expressed permission of the tribe. I guess it is rare to have so many in one place that is not an Indian village. They were interesting to see and try to interpret. There were signs nearby that would tell the story for you. Here is one that tells the history of the local tribe: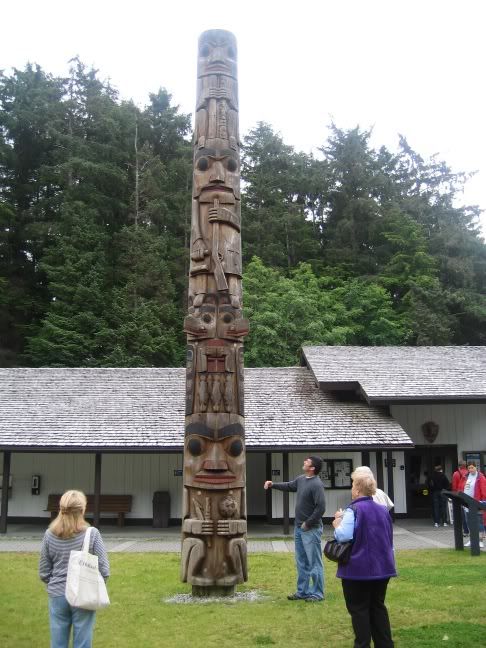 We finished up our hike around the park and went for some lunch. There are only 4 restaurants open for lunch in Sitka. Only two were nearby the harbor (I mean within 2 blocks). We picked one at the advice of a local and had some lunch. The ship was set to sail in the mid afternoon so after lunch it was back to the ship. After we got back on board the captain came on the PA and told us that on the channels south of Sitka are prime whale watching area due to the currents and all the food for the whales. That set the stage for our evening plans. As we started out of Sitka, we noticed the many islands around the area. A lot of the people in the area literally buy an island (or group of islands) and build their home on it. Some have multiple structures connected by raised paths. Most people "settle" near others and create almost a "subdivision" of islands. The only connection these people have to land is by boat. An interesting way to live. Here is a photo of one of these "settlements":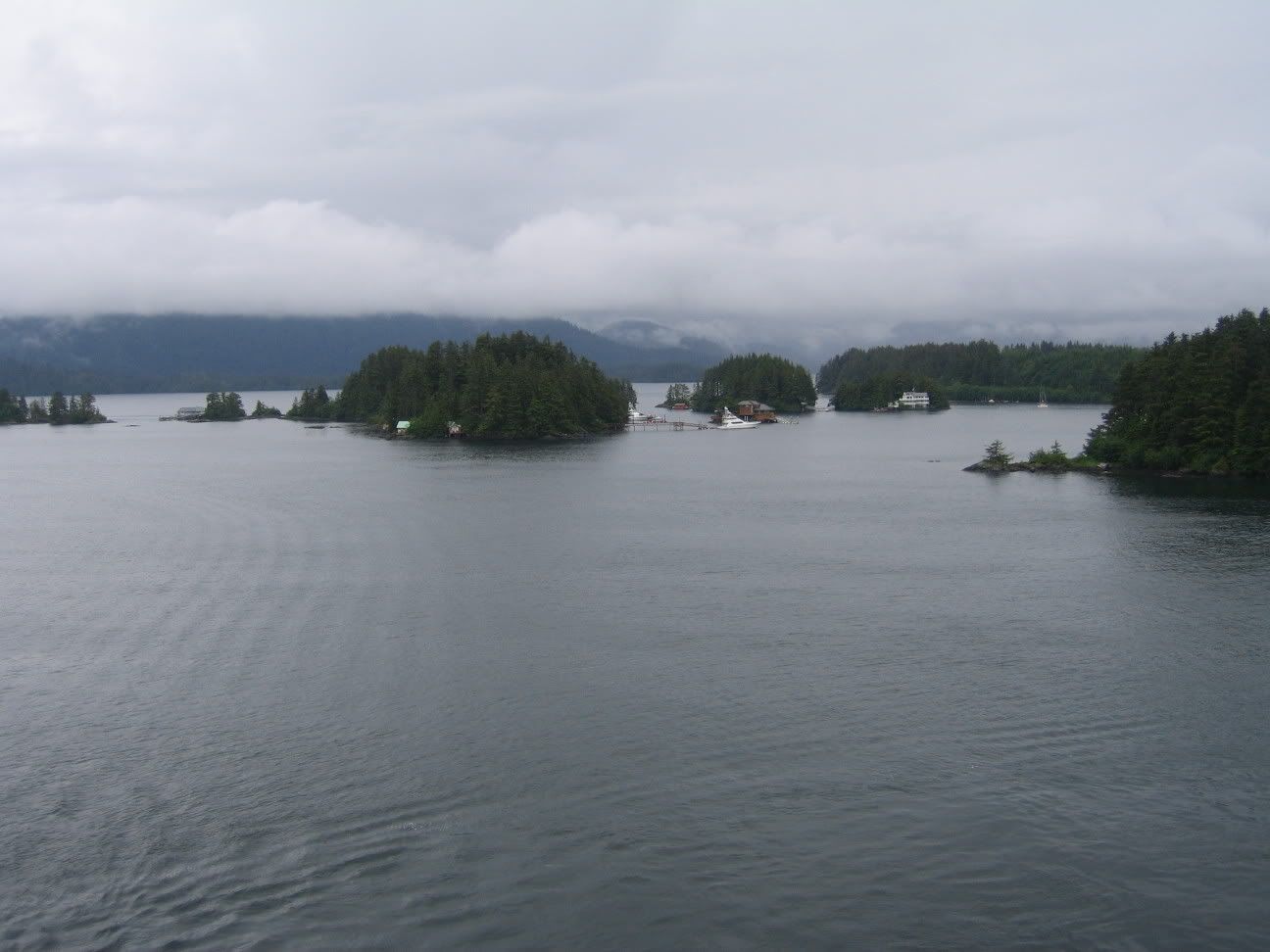 Finally we finished our day with a buffet dinner and whale watching. That night we spent at least 4 hours watching the whales in the area. We literally saw hundreds of whales. It would have been impossible to count them all. I wish I had photos but it is all but impossible to get a decent photo of them as they generally stay a few hundred yards away from the big ships. The other cool thing that happened on Thursday was that we saw Meg Ryan. She was on our ship with her adopted child (I assume), a nanny, and a personal assistant. She looks just like she does in the movies. We saw her at dinner a couple tables away and then we saw her a few other times.

Friday (Ketchikan and Fly Fishing)

Friday came early. We had plans to go fly fishing that day and we had to meet the guides at 7:00. We got up and had breakfast on the deck and watched the ship come into Ketchikan. We passed by a logging camp (the largest local industry):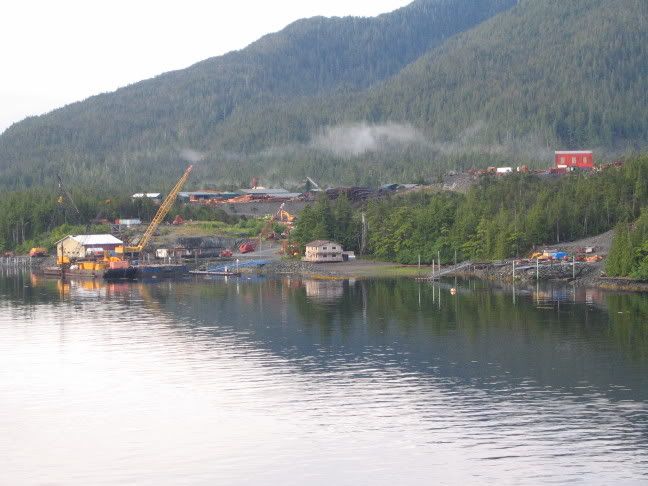 Then we passed the Ketchikan "International" Airport: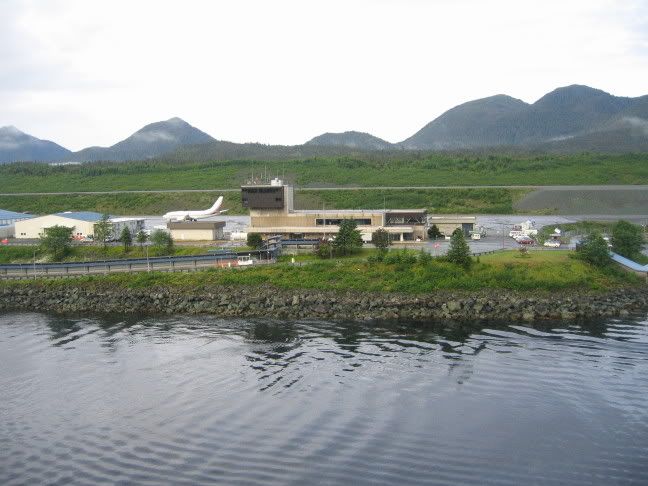 Then we got to town: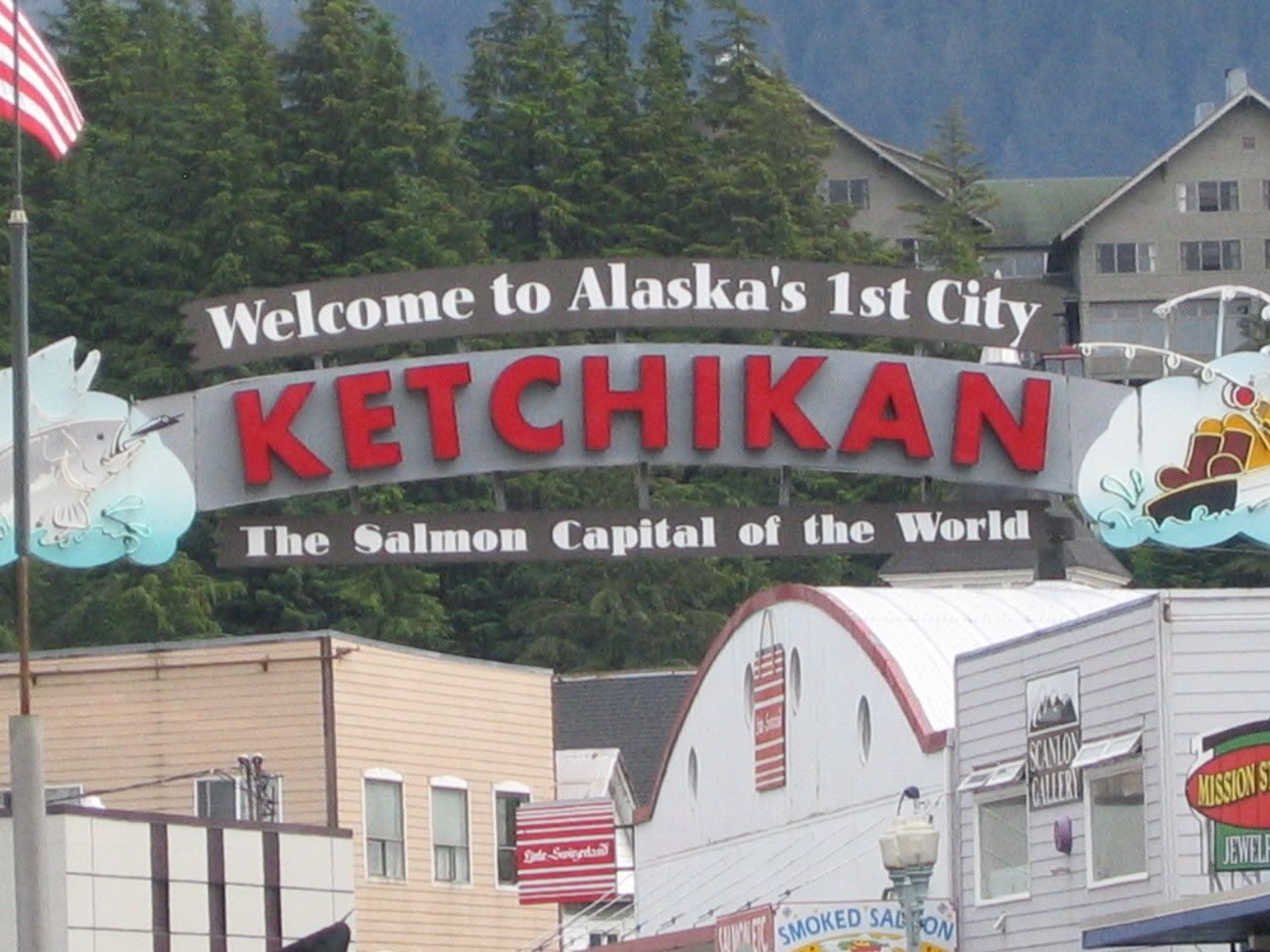 Ketchikan is called "Alaska's 1st Town" because it was the first town you would stop in on your trip to the Klondike during the goldrush. We met the guides and they put us into a van and took us through town and about 15 minutes north of town and into the Tongass National Forest (still part of the rain forest that starts up near Hubbard Glacier). While I didn't get a photo of it, I did see something I found funny. It was a sign for a local restaurant. It said "Eduardo's Mexican Food - The Best Pizza in Town!"

Back to the fishing. They dropped us off at a road that had washed out in the spring thaw. A half mile hike through the beautiful rain forest brought us to a lake. The lake was 1/2 owned by a local Indian tribe and 1/2 owned by the forest service. The lake was surrounded by a thick, lush, and very green forest. They put us into float tubes and sent us on our way with a guide. Here is Dana in her tube: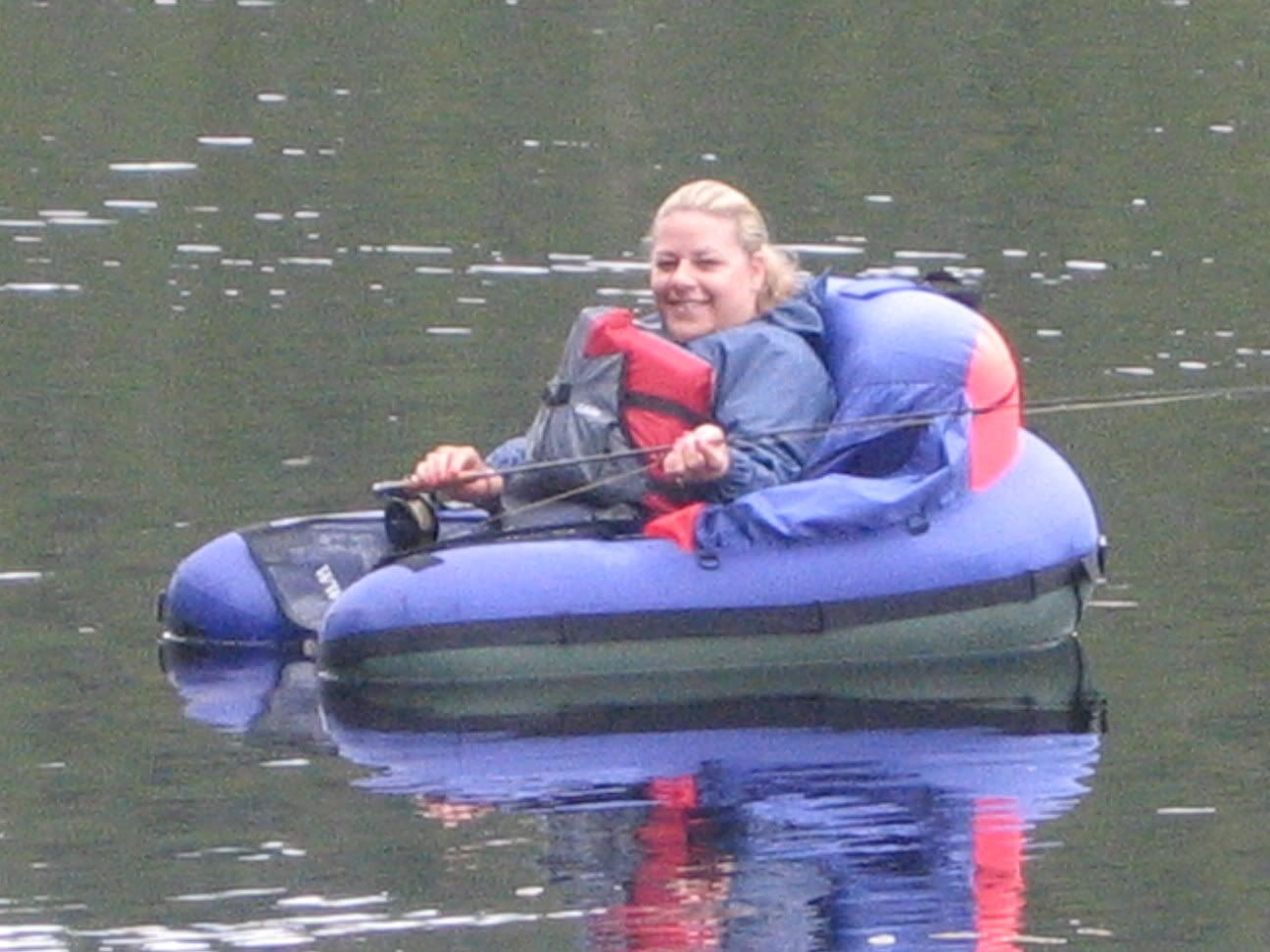 We had a good time fishing. I caught one fish (a Cut Throat trout), Dana learned how to cast and we both learned to fish in a float tube. Dana had an excellent time but I remained a bit disappointed as the guides were not local (California) nor were many of the people working for the company. Regardless, we had a good time. Fishing literally took all of our time in Ketchikan. We got back to the dock in time to get in line to re-board the ship.

Saturday (At sea most of the day and Victoria, B.C. at night)

The last full day of the cruise. We spent the bulk of the day at sea. Dana and I read, packed, ate, slept, and just generally relaxed. We didn't do anything that hasn't already been mentioned. We pulled into our last port of Victoria, British Columbia at 6:00 that night. Victoria is the capitol of the province and prides itself on maintaining its British heritage. There was supposed to be many sites to see and a lot to do but there was a problem. We pulled into port at 6:00 PM. This was our scheduled time so we weren't late. The problem that the cruise line didn't realize was that almost everything in Victoria closes at 6:00. So we were somewhat disappointed in Victoria. There was one small area where all of the stuff to see was. We saw the parliament building: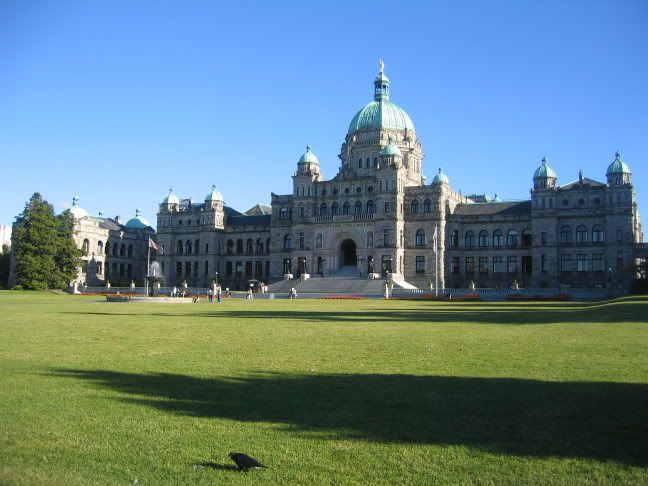 We saw a hotel that Victoria is famous for (The Empress):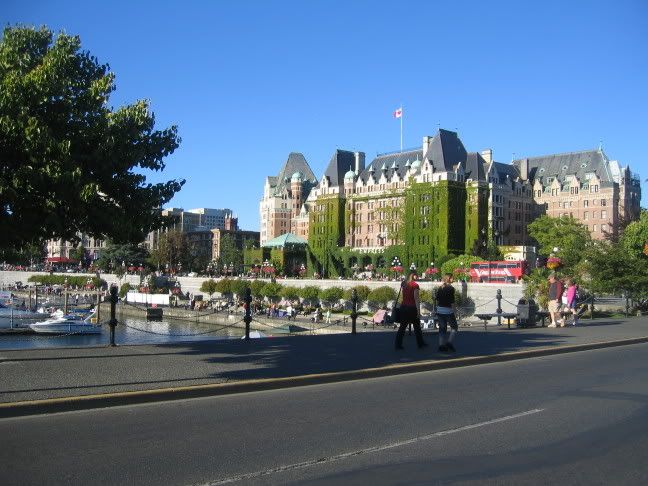 The hotel was open so we took a few minutes to walk through. It was a hotel and I am sure all of you have seen one before (even an old one). They had some gardens that were pretty but nothing special (imagine a grassy area with some flowers and flowery bushes). I don't mean to sound negative, it is just that it was nothing special. We spent a few minutes walking through downtown and near the harbor. There were a bunch of street artists and performers but that was about it. We were missing the girls pretty bad at this point so we were pretty anxious to get home. We decided to cut out of Victoria. We headed back to the ship about 9:00 and the ship sailed a few hours later at midnight.

I consolidated the photos from Sitka, Ketchikan, and Victoria into one album that can be found here.

Sunday (Seattle and HOME!)

I must have fell asleep as soon as I hit the pillow Saturday night. The next thing I knew I woke up and we were at the dock in Seattle. I guess that makes sense as Victoria is only 80 miles from Seattle. We sat in our room and waited until they called our group to deboard. We were off the ship and off to the airport by 8:30. There was a bit of confusion at the airport but nothing major. Finally we were on our way home.

Home: A few hours later we were at Dana's parents house to pick up the girls. We were really excited and when we walked into the room both girls just looked at us. No excitement, no shouts of joy, nothing. Molly was a bit shy but as soon as she realized we had presents for her she warmed right up (imagine that). Emmy just smiled and went on playing. I can't imagine she noticed we were ever gone. Anyway, it was good to see the girls again and to get home.

It was an amazing trip. We saw so much. Did so much. I ate too much. And we can't wait to go again! We saw so many amazing sights, so many things we don't get to see, and experienced so much that we can only hope to experience again. We have nothing but high praises for our cruise line, the ship, and their staff. It was an amazing trip that we could only hope to repeat.

That's all for now. I will be doing some climbing again this week and Pete and I have another couple climbing trips we are trying to get organized (Pyramid and the Wilson's). More on those later.