The Bell Cord Only Rings Once
JJ picked me up at my house at 12:30. We wanted to get out of town before all of the holiday traffic, and were able to do that. We headed west on I-70 towards a "little town where the beer flows like wine; a little town called Aspen." (Quote from Lloyd Christmas - bonus points if you can name the movie.) One quick pitstop at the summit of Independance Pass and then down to Aspen. When we got to Aspen we stopped and asked a fireman where a good sandwich shop is and the first one he mentioned we went to, but it was closed. Also, while looking for these sandwich shops we did figure out that Aspen needs better parking for large diesel trucks. So we went to the second shop mentioned, got our sandwiches and headed to the Maroon Lake Trailhead. This was where we got the first look at our goal.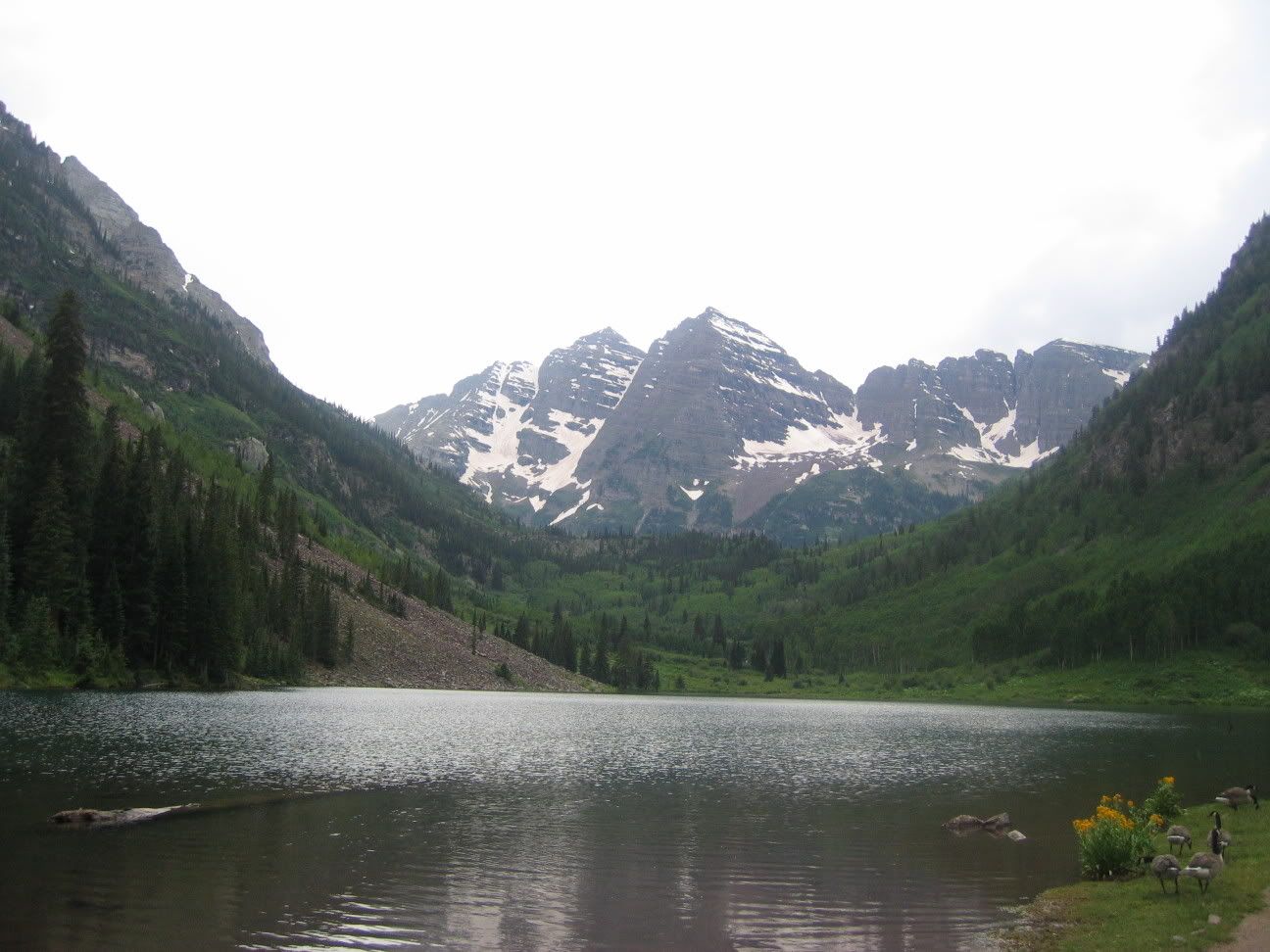 At the Maroon Lake Trailhead we sat on the tailgate and ate our sandwiches. As we finished and started to pack for our trip it started to rain. We finished packing and decided to wait out the rain. We sat in the truck for about a half an hour and the rain diminished into a mist so we decided to start hiking. It was a good decision because about a half mile up the trail the rain stopped completely and we had a clear 1.78 mile hike to our Crater Lake camp.

We found the camp we wanted, put down our packs and went up the trail to scout the next days hike. We to the point of entry where I started my climb of South Maroon last September, and began looking through the binoculaurs at our options. The snow fields were looking pretty nice and ready to be climbed the next day. We plotted out our route and headed back to set up camp. Based on what we saw and some info from other hikers, we decided upon Bell Cord Couloir. Bell Cord Couloir is the "gully" that runs directly up to the saddle between the Bells. It took us about 15 minutes to set up camp, snap a few pictures of the bells, and head to bed around 8:15 PM for a 3:30 AM wake up call. During the hike and while we were setting up camp, we noticed several deer in the area. Then, all of a sudden, we had a visitor IN CAMP.




3:30 came and the alarms went off to wake only me up, because JJ was already awake from not sleeping during the night partially due to my snoring and partially due to his stench. We woke up, I put mole skin on some new found blisters, and we finished packing for the days hike. We put on our packs, turned on our head lamps, and headed down the trail towards our entry point. At 3:50 AM we got to the entry point and started up the mountain. As we were hiking up, the trail disappeared and then reappeared a few times. Then all of a sudden out of no where JJ yells, "Watch Out!" as if there was a mountain lion about to eat him. I jump back and shine my light on what he is talking about and find that it is only a porcupine. We follow the porcupine for a while and then he finally turned off and went his own direction. This was just prior to sunrise. As the porcupine went his own direction, we took this photo of sunrise:




I veered off to the left a little and hit the lower snow field while JJ continued up the half talus, half grass slope. The snow field was already soft enough for me to kick steps into and walk without crampons. I met up with JJ towards the top of the snow field where he had to cross it to get to a large cliff band with a few smaller waterfalls off to the right.

We should have followed the bottom of the cliff band around to the left but instead we hiked the steps of the waterfalls. That detour probably cost us 30 - 45 minutes. At the top of the waterfalls we had more talus mixed with grass and little shrubs until we hit the large snow field at 11,000 feet. We sat down next to the snow and put on our crampons. This was our view from this point:



UP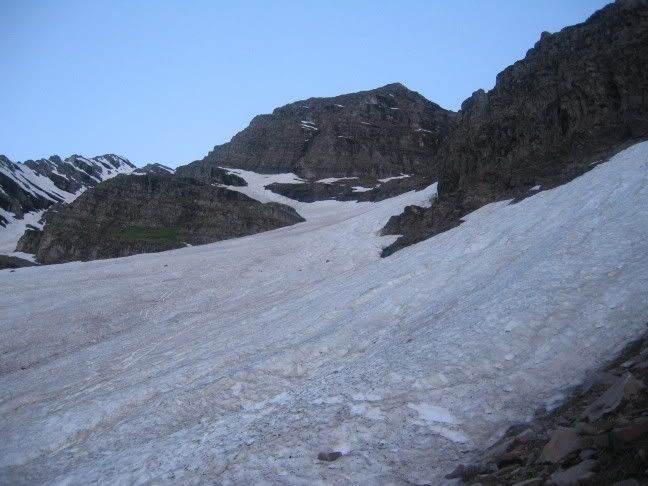 DOWN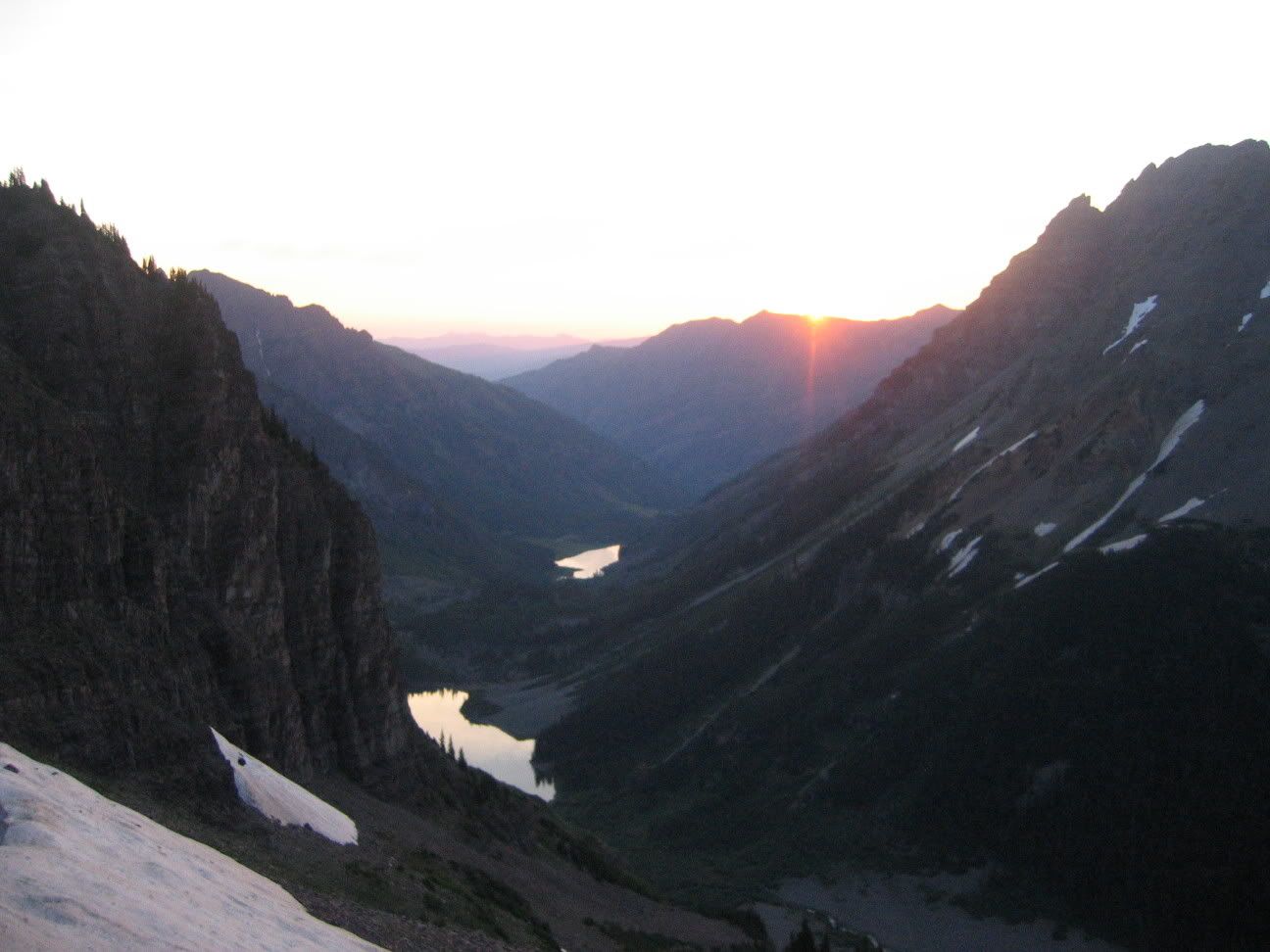 We then began our snow ascent up the apron and into Bell Cord Couloir. During our ascent we heard and saw many rocks falling around us. Obviously we were never struck by a rock, but JJ did make good use of his helmet later when he stood up into an overhanging rock. In the couloir the snow was still fairly soft, but I would never recommend anyone doing it without crampons. JJ and I spent most of our time climbing up in runnels. Runnels are natural gullies formed by rain in late season snow. The runnels we climbed where anywhere from 1 foot to 8 foot deep. At times, they were so deep, we had to literally climb into or out of them. Also, in these runnels JJ decided to step on some rocks which settled under his feet and twisted his ankle. Later this plays a big role in us not making the traverse over to North Maroon. Most of elevation was also gained in Bell Cord Couloir. By the time we reached the top of the couloir, we only had another 600 feet to summit. Here are a couple photos of the couloir:



Shortly After The Entrance to the Couloir



Pete Climbing Near The Top



At the top of Bell Cord Couloir we took off our crampons and piled them to the side of the trail for use on the way back down. We had a short snack and then continued on our way. The last 600 feet was a lot of difficult rock scrambling and route finding. The route finding was not too difficult, because we knew where we had to go. The hard part was finding the easiest route to get there.



JJ Climbing Near 13,900 Feet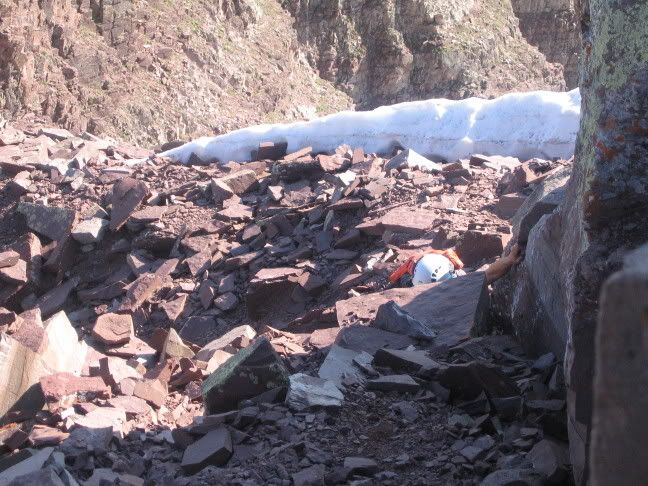 JJ Climbing at 14,000 Feet with North Maroon in the Background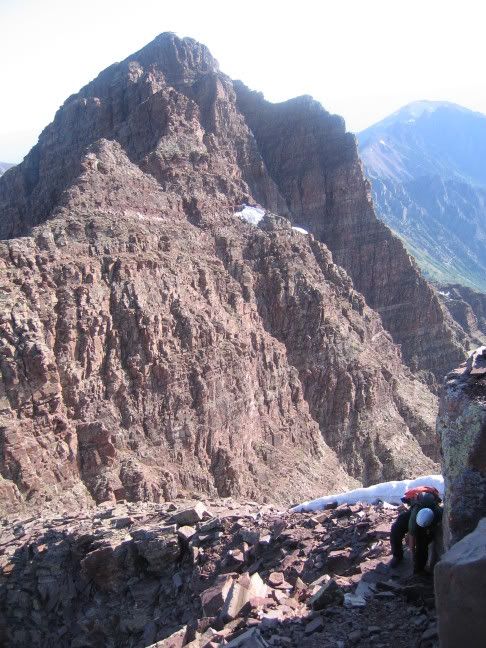 We were the first ones to summit all day, and we had the summit completely to ourselves. There was no one on North Maroon and there was no one on Pyramid either. The views were great. We could see numerous other 14ers from the summit.



Summit Shot With Snowmass Mountain and Capitol Peak in the Background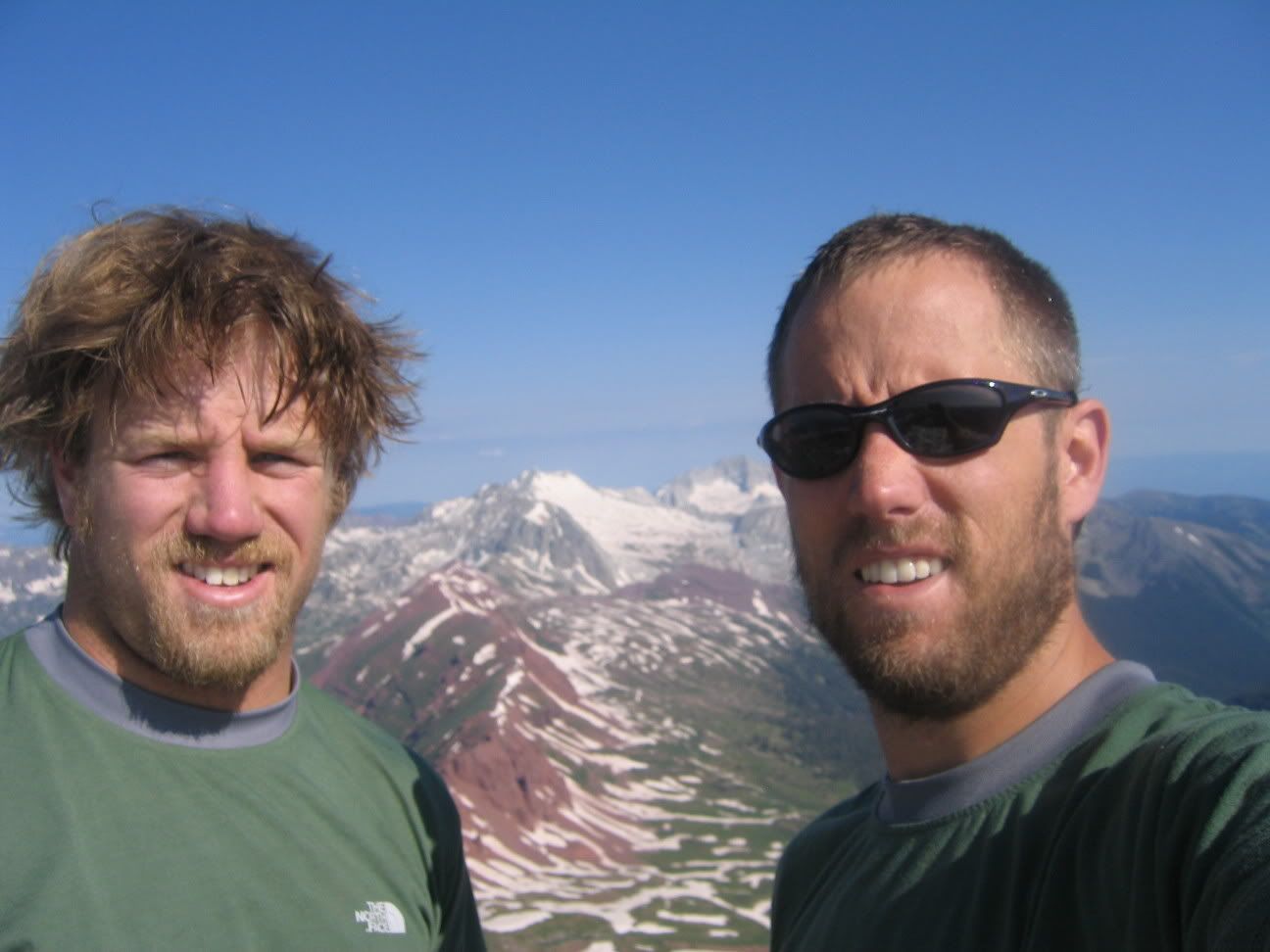 Pyramid Peak From The Summit of Maroon



Some of the rock moves going down were a little scarier than coming up; you actually see what you would fall off of when you go down. While we started to climb down we also started to asses whether we were going to be able to make the traverse over to North Maroon. JJ's ankle was still hurting, so I called it off. It actually turned out better because we would have probably got rained on on the way back if we had climbed over to North Maroon. We down climbed all the rotten rock back to the top of Bell Cord Couloir where we left our crampons and ice axes. This is also where we met the only other person we saw on the mountain that day. It was a guy that was also attempting South Maroon. It was good to meet him here because he had picked up a glove that JJ had dropped earlier in the hike. We sat there and talked to him while he ate a snack and we put our crampons back on.

At the start of our snow descent we started with plunge stepping, which consist of digging your heel into the snow and taking large steps downhill. Once we got to a safe and not so steep area, we began to glissade. While JJ was comfortable in his winter climbing pants, I was only wearing a single layer, thin pair of pants. While glissading down I could feel the strawberry and bruise forming on my left cheek (and no not the cheek on my face). We glissaded down all of the safe parts which had no rocks or lingering crevasses below us. The other parts we plunge stepped down. The glissading helped out our time tremendously; for what took us 3 hours to ascend this snow field, only took us 1 hour to descend. We were able to glissade all the way to the bottom of the rock band that we initially climbed on the other side through waterfalls.

Here we had to take our crampons off and traverse across a talus field to another smaller snow field. We put our crampons back on continued to glissade and plunge step down. There was one more spot that we had to climb over some talus to get to another, even smaller, snow field, but it did not require us to take our crampons off. We descended another 200 feet to where we could finally take our crampons off for the rest of the hike. After removing our crampons we powered down the rest of the talus grass mix to the trail. We hit the trail and kept on moving. We passed quite a few tourists (easy to spot with their cell phones and jeans) and other backpackers. We got back to camp at about 12:30. We sat down for a second and then began to tear down camp. JJ packed his bag while I packed up the tent. We got everything repacked and headed down the Crater Lake trail back to Maroon Lake. On the way to Maroon Lake we passed even more tourists (still no cell signal) and more backpackers. We reached Maroon Lake and took a second to dunk our heads in the crystal clear water. We finally reached the truck at 1:30. After having the best feeling of taking off our boots we jumped in the truck and headed home.

Right now we are unsure of our next climb but stay tuned.



The Stats:



Just over 7 miles from camp to summit and back
4100 vertical feet
13 feet per minute average ascent rate
25 feet per minute average decent rate
8.5 hours (5 hours up, 3.5 hours down)
Truck to camp is 1.75 miles and 45 minutes (one way)
The Route: