Talus Hopping on Princeton
All week I was debating whether to climb Princeton or Yale. I was leaning more towards Yale because it is one of, if not, his favorites. The two mountains are right next to each other so I was just going to wake up in the morning and choose one. Then at about 9:45 Friday night, one of my buddies (Chris Ferraro) called me from Crestone (where he was climbing the group of five around that region) and described to me how he got lost going to his campsite for the second night. Since he got lost he turned around and headed back to his car, knowing that I was climbing the next day, and that he could meet up with me. Since Chris had not done Princeton, that made the decision for me to do Princeton.
My alarm went off at 4:00 AM, I rolled over, gave Heather a kiss, and got out of bed to put my hiking clothes on. Ace and I were meeting Chris at 6:30 at Mt. Princeton road and HWY 285/24, so we had to get a quick move on it. Driving went really well. I didn't get caught behind any slow drivers and I made it all the way to the meeting point in about 2 hours. I sat there waiting for Chris for about 5 minutes; enough time for Ace and I to get our stuff ready for the hike.
Mt. Princeton
I took my brothers advice and drove all the way to the end of the road. You can faintly see the road traverse all the way across to the left side of the mountain in the picture above. On the drive up we passed quite a few people who could not drive any farther and were hiking up the road. We finally parked at 7:30 and were hiking at 7:40.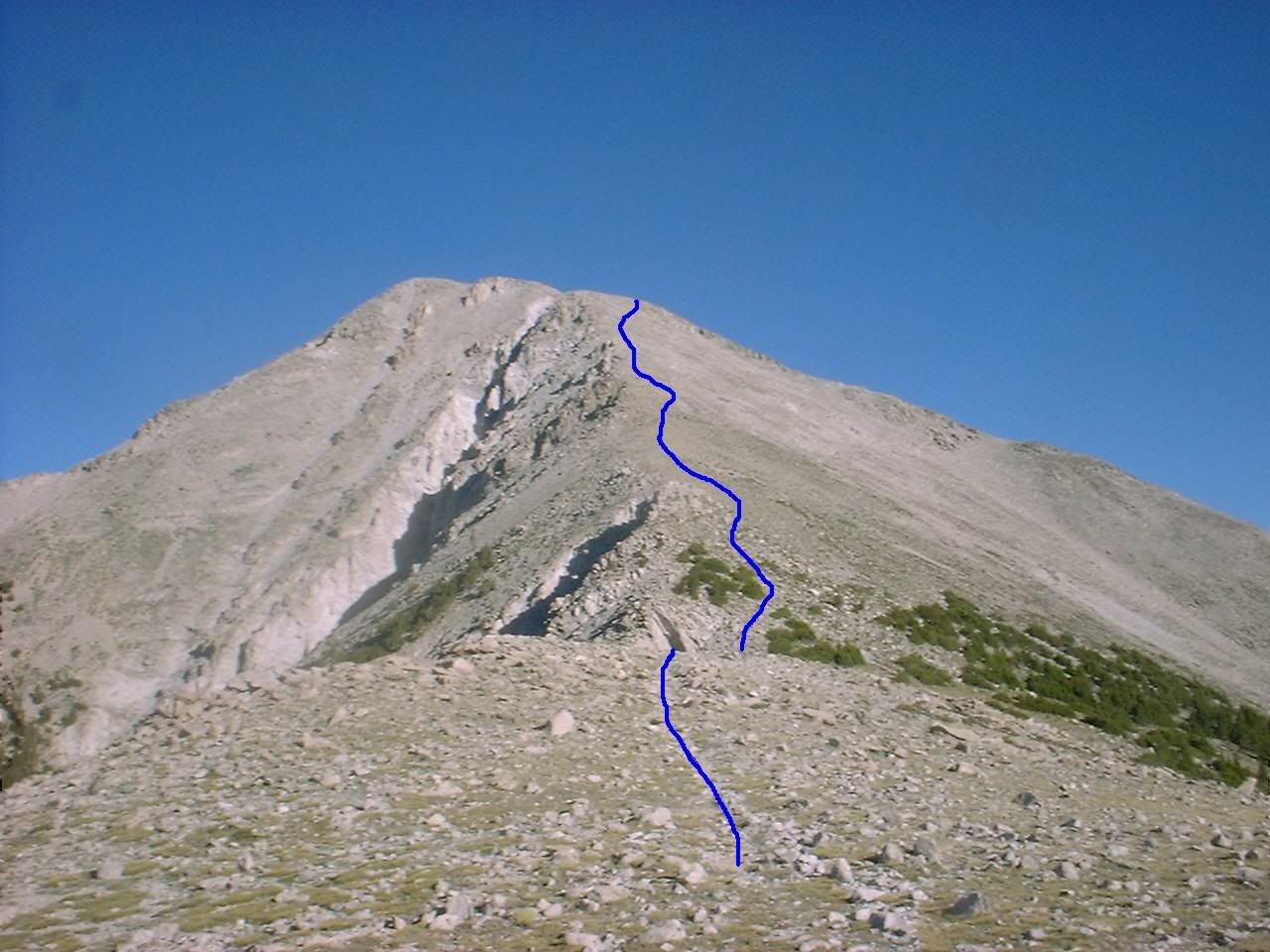 Mt. Princeton From the Car
We hiked up this hillside that was grass and talus mixed. It was a fairly easy start. We scurried up the initial hillside with no problems. Once we started to climb around to the front side of the mountain, we could see the summit of Princeton, and everything turned to talus.
When Everything Turned to Talus

At this point we were not on much of a trail; we were more finding our way through a huge talus field. We continued at an angle toward Princeton's ridge line.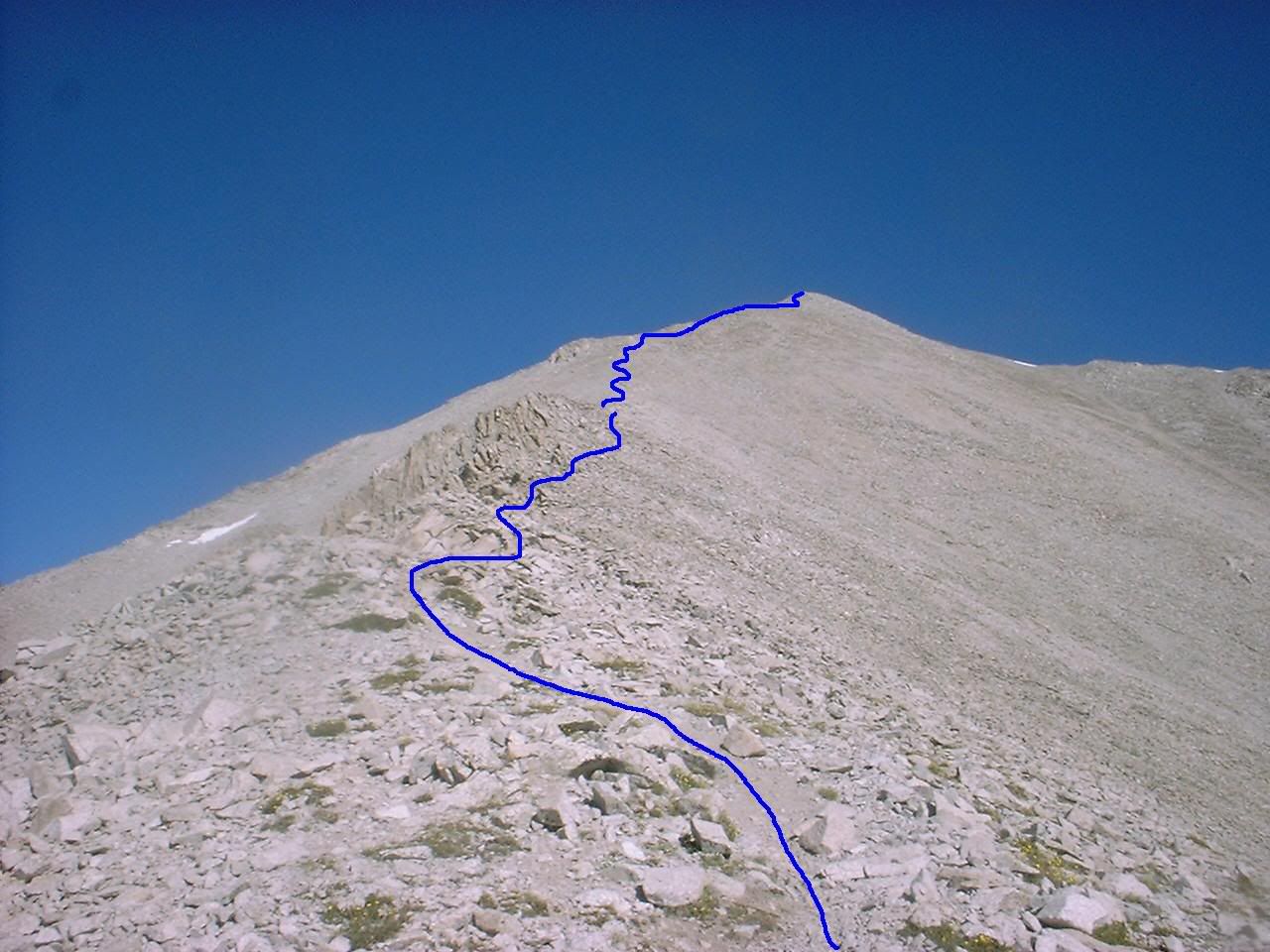 Where We Met The Original Trail

After talus hopping for about 30 minutes we finally met up with the actual Mt. Princeton trail. From here the talus hopping did not stop. The trail consisted of loose dirt to talus and then back to loose dirt. After getting a little frustrated at the loose rock and dirt we decided to head off the trail a little and start hiking straight up the mountain on pure talus. For Ace's first hike of the year he did really well. He did have some trouble with the talus (as would any dog), but for the most part he did just fine. We reached the summit just before 10:00. We ate a couple of snacks, took some pictures, talked to a few others and headed down the mountain.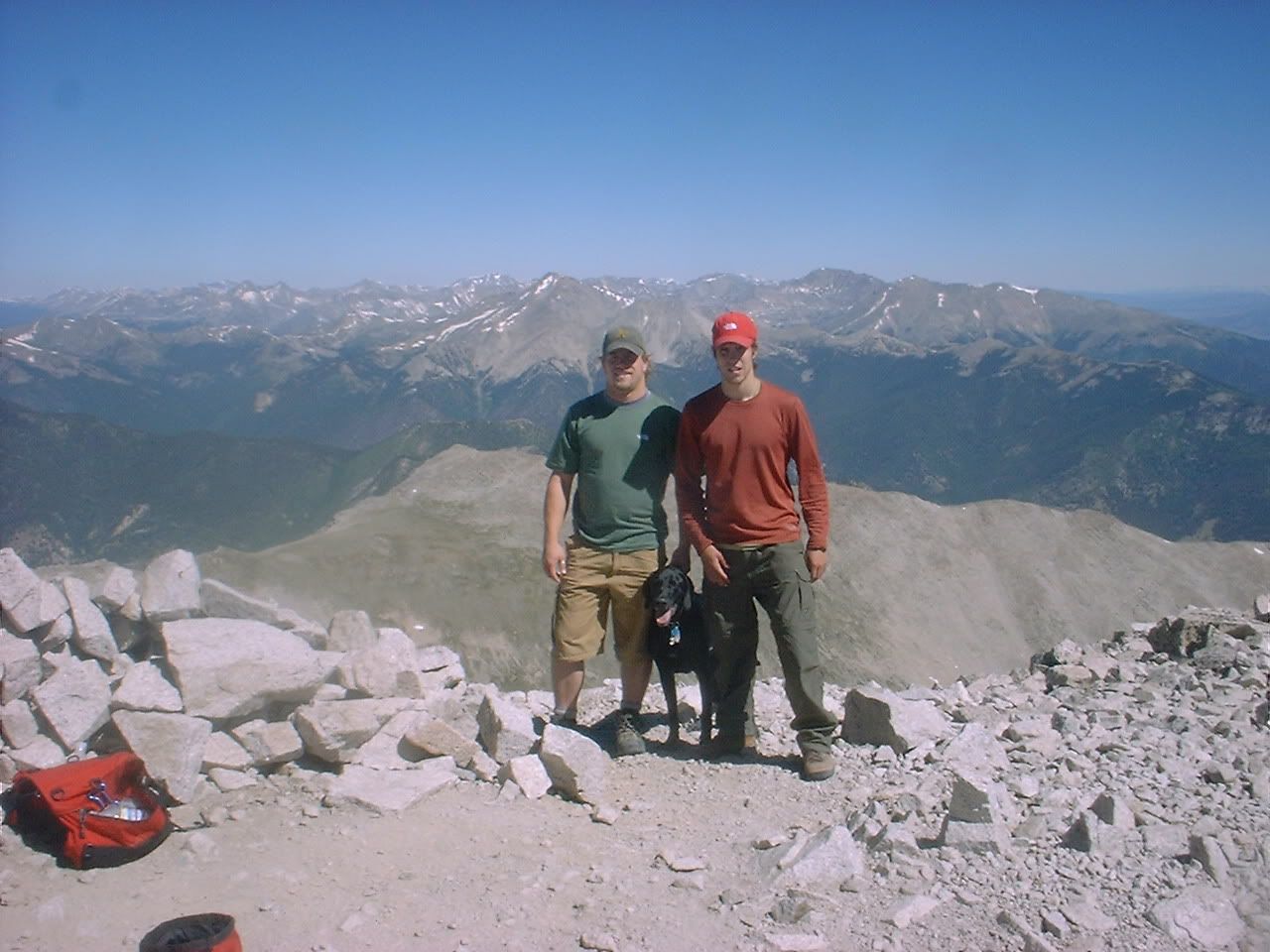 On the Princeton Summit

We pretty much went down the same way we came up. We passed quite a few people on the way down. There was a group of boy scouts that were hiking, that were from Littleton. I thought that in boy scouts they taught you how to be in the wilderness and how to survive in the wilderness, but I guess not due to the fact that the majority of the boys were wearing jeans and a couple of them looked to have no water at all.
Over it was a good mountain to get out of the way. It was not a very hard climb; it took us about 2 ½ hours up and about 2 hours down. JJ and I are headed to the Maroon Bells this Friday for an attempt on the South to North traverse via either Bell Cord Couloir or the SE Couloir. It should be a classic mountaineering route with a snow climb, mixed climbing, and good old fashioned scrambling. Watch for that post next week.